The week of the OE Global Conference went by in a blur, but just because it's past does not mean it's over. All of the presentations are and will be available for viewing, sharing, and discussing. More than 120 of the sessions have archives available for viewing.
Was there a session that stood out for you? More than one? We have yet one more Postcard Remixer for you to use! Share a favorite session with a colleague, friend, the world.
You can explore the full session archive, along with OEG and YouTube archive web addresses.
Here is a card to remix from- a memorable session for me was Inclusion by Building Capacity: Advancing STEM and Multicultural Programs with OER by @chellreed @BonnieBoardman , @julianmrodriguez
I was very inspired by Julian's creative metaphor of corn to represent the diversity of Latin America culture, in his talke discusses through the lens of Spanish language news journalism in the US.
So I made this Memorable OE Global Session postcard to share widely.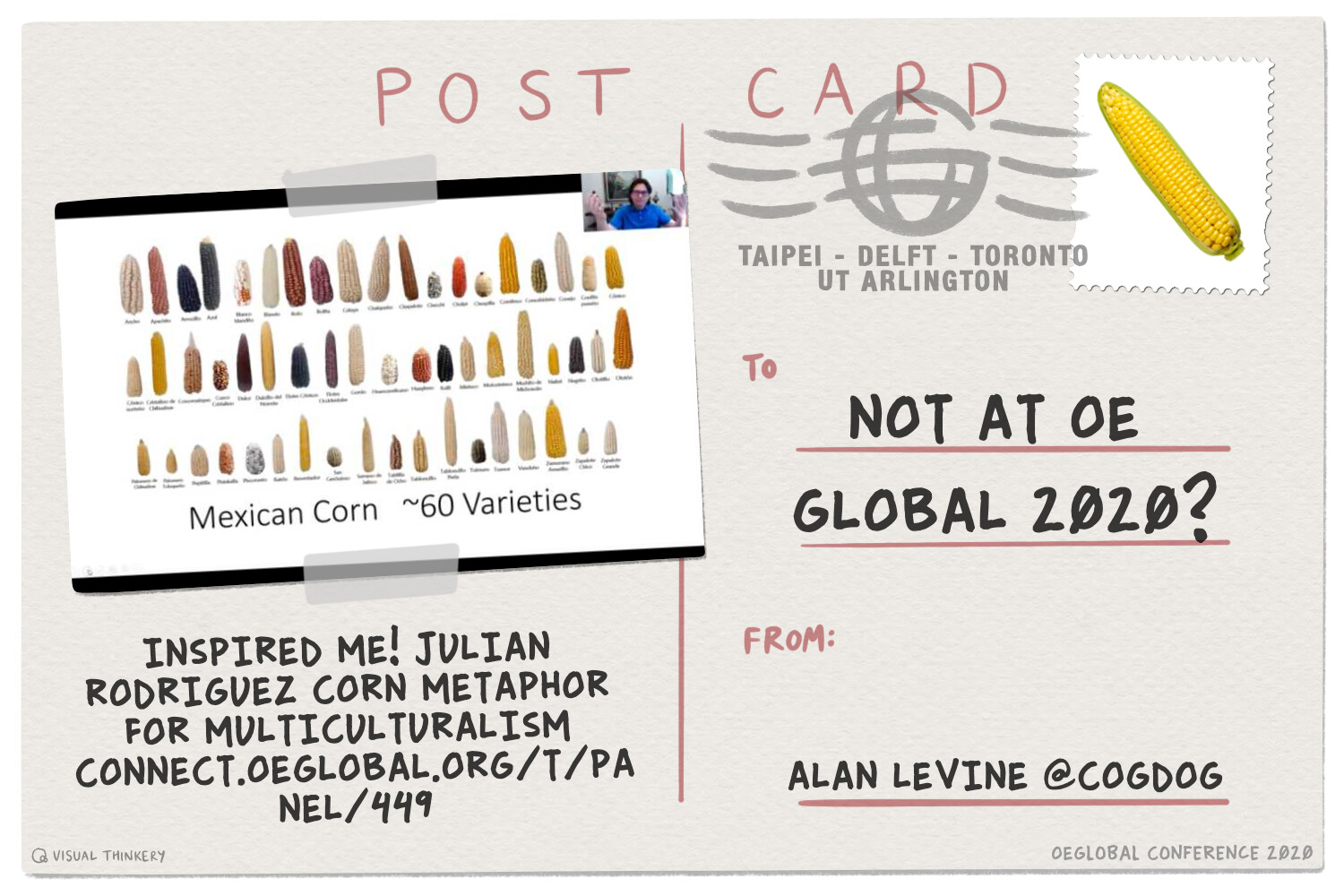 Just click my card to access it in the Remixer Machine, then change the images and message to make it your own. Use as an image a screenshot of the presentation link in OEG Connect or a capture of a frame of the video archive.
And here is an OEG Connect "trick" – you might notice the web addresses can be very long, too big for the card. You can make them much shorter. For example, the session I chose, its URL based it's the title is
https://connect.oeglobal.org/t/inclusion-by-building-capacity-advancing-stem-and-multicultural-programs-with-oer/449
You can replace everything between /t/ and '/449' with any text to make a shorter link, to this works just fine.
https://connect.oeglobal.org/t/memorable/449
See?
But please share a conference highlight as a postcard, publish, download, and share here (this conference possibly would never be "over"!).