I love this idea suggested by my OEG colleague @IslaHF – and you can see it now if you click on her name right now (or anywhere you see her icon). This reveals her OEG Connect profile, also displayed below.
We have added a new profile field listed as Hear My Name where you can add a web address for a web site service that offers the audio pronunciation of Isla's name: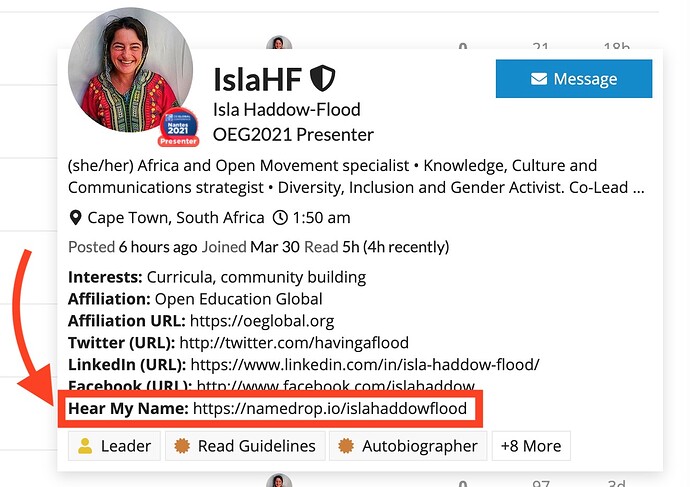 If you go to https://namedrop.io/islahaddowflood you can hear her voice saying the preferred pronunciation of her name.
For people creating their OEG Connection accounts, this field is available on the signup form. If you are already here, you can modify your profile to add a link like this.
How do you create one of these? You have options!
Isla used Namedrop.io (a free service for a basic recording)
Name Coach offers a similar service
Vocaroo provides an easy recorder that published your audio at a URL
Wikimedia Commons Voice Intro project can be used to publish an audio introduction
Any other way you can link to an audio of the preferred way to pronounce your name
This is something that can help connect us more but also assist in situations when we are in live sessions and wish to pronounce a colleague's name the correct way.