This is one of two live recording sessions for the OEG Voices podcast. we are hosting during Open Education Week. You are invited to enter our studios Wednesday March 9 for a conversation with two dynamic winners of individual Open Education Awards for Excellence.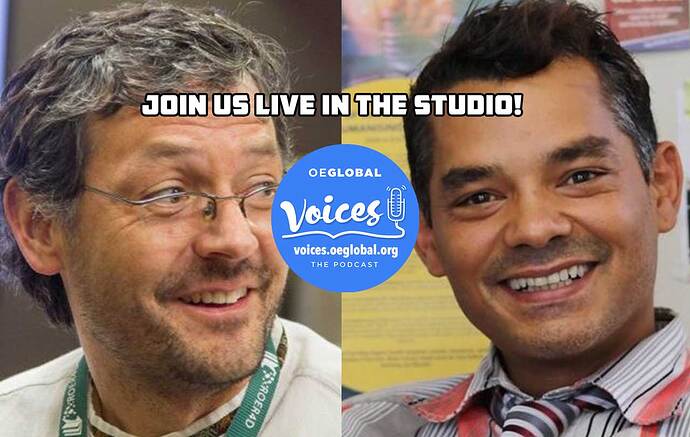 The theme for this session might be Enthusiastic Open Educators from the Southernmost Countries of their Continents as we welcome from Chile, Werner Westermann @wernerio, recognized with a Support Specialist Award and from South Africa, Gino Fransman, @GinoFransman recognized with an Emerging Leader Award.
The OEG Voices podcast series provides a conversational style connection with key persons in our field. If you would like a seat in the recording studio to listen and/or to ask questions of these two leaders in Open Education, you can be there for our conversation. This takes place (time converted to your local time):
2022-03-09T13:00:00Z → 2022-03-09T14:00:00Z
The podcast will be recorded in Zoom (cameras never required) and space in the studio is limited to the first 10 registrants. Register now!
This is a special opportunity to be part of a conversation with two exciting advocates and practitioners of Open Education. If you cannot be there, please reply below with any questions you would like to ask Werner and or Gino.
Learn more about our guests:
Gino Fransman
Nelson Mandela University (Gqeberha, South Africa)
Gino's role in the OpenEdInfluencers project stems from well before being employed at MandelaUni, from UNISA, and University of the Western Cape since 2005. Being an advocate for Open, and indeed for Opening Up access to free, high quality, fully accessible education resources motivated a research endeavor as a GO-GN member, as well as a student and staff developmental and empowerment initiative.

After 3 years at the institution, it became evident there was lacking progress in the awareness raising sector. Adoption, and the prime objective of generating new OER became a point where endeavours often fell short. Too many people didn't know what Open was, nor the potential of OER and Open Textbooks, especially. Gino set up an Open advocacy strategy where students would be able to take the lead in bringing this evolution in the provision of teaching and learning resources to the fore and gain work experience, and payment. Focusing attention to the efforts, successes, and greater potential the initiative offers, and to celebrate actions for Opening Up.
The Emerging Leader Award is granted to an enthusiastic individual displaying promising leadership qualities. Someone who's advocacy and use of open education is inspiring, making them an effective spokesperson. Someone who has demonstrated a strong commitment towards its ideals or has achieved significant accomplishments.
Werner Westermann
Library of Congress of Chile (Santiago, Chile)
Werner has a deep and authentic commitment to equitable learning through ICT. He has a holistic yet practical view as to what is required to use OERs, and builds on lessons from other initiatives that have been limited by technological or infrastructural constraints of delivery of OER in a way that makes sense for the learning needs.
Werner worked with Learning Equality to align OERs to national curriculum in Chile and Honduras, with El Salvador underway, and he has presented on this work alongside their open learning platform, Kolibri, as a tool that could be piloted and scaled. He has shared this passion with our community while discussing the reusability paradox in a recent [blog](https://blog.learningequality.org/offline-oer-and-the-reusability-paradox-a636f86ba1d5. Werner is leveraging his expertise in education technology and open content to ultimately improve the lives of learners globally.

Werner has over 20 years of experience with ICT-enabled education and training with ministries, higher education and civic education institutions, as well as an OER researcher and advocate. Notably of late, he kicked off an OE Global dialogue which encapsulates how he is thinking about OER: "How can OER, its use and the openness in our educational practices emerge as alternative and new ways of learning and teaching?"
The Support Specialist Award is presented to an individual actively engaged in the use and promotion of OER and Open Practices. Someone, other than a professor/teacher, that supports the ideals of the Open Education movement through their own practices. These might include librarians, researchers, instructional designers, policymakers, administrators or more.