Un Friday March 11, during Open Education Week 2022, we are recording a new episode of the OEG Voices podcast . You can be there with us.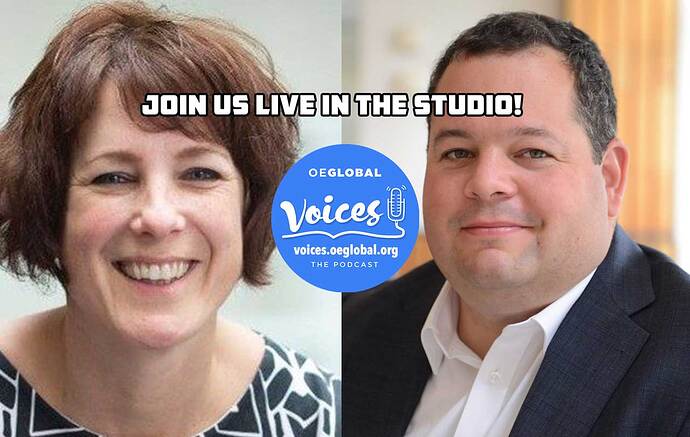 Our guests are two key leaders who received 2021 Open Education for Excellence Awards. In the studio with us are Melissa Highton (@MelissaHighton University of Edinburgh) recognized with a Leadership Award and Willem van Valkenburg (@wfvanvalkenburg TU-Delft), recognized with a President's Award.
The OEG Voices podcast series provides a conversational style connection with key persons in our field. If you would like a seat in the recording studio to listen and/or to ask questions of these two leaders in Open Education, you can be there live for our conversation. This session takes place in your local time:
2022-03-11T14:00:00Z → 2022-03-11T15:00:00Z
The podcast will be recorded in Zoom (cameras never required) and space in the studio is limited to the first 10 registrants. Register now !
This is a special opportunity to be part of a conversation with two recognized leaders in Open Education. If you cannot be there, please reply below with any questions you would like to ask Melissa and or Willem.
Learn more about our guests:
Melissa Highton
University of Edinburgh (Edinburgh, United Kingdom)
Melissa Highton is leader in the area of strategic support for OER at both institutional and national levels, demonstrating her long-standing commitment to open education within her current role as Director of Learning, Teaching and Web Services and Assistant Principal Online Learning at the University of Edinburgh.

Melissa's leadership and example in open education is far reaching. In the past 18 months alone: she has influenced the sharing of OERs for primary and secondary school children on TES Connect, proving particularly useful for home-schooling parents during the pandemic; enabled gamers to import any of the 40,000 images from the University's Centre for Research Collections into the Nintendo game 'Animal Crossing'; and facilitated the repurpose of content from the Masters in Critical Care so that more than 40,000 healthcare professionals working on the pandemic frontline could access resources for free.
The Leadership Award presented to an individual who has demonstrated significant leadership and longstanding involvement with Open Education. A person who has made significant and clear contributions to the furtherance of the Open Education movement, whose contributions to Open Education have spanned regions and/or had a global impact.
Willem van Valkenburg
TU Delft (The Netherlands)
Willem van Valkenburg is the Executive Director of the Delft University of Technology (TU Delft) Extension School in the Netherlands. The Extension School offers open and online courses for professionals and lifelong learners. He has participated with OEGlobal since 2008 and since 2013 as a Board member. Willem was President of the Board from 2018-2020.

Willem has been instrumental in advancing open education around the world through his exceptional dedication, outstanding contribution, and exemplary service.
The President's Award is presented by the Board of Directors to an individual or institution with exceptional dedication, outstanding contribution, and exemplary service to Open Education.