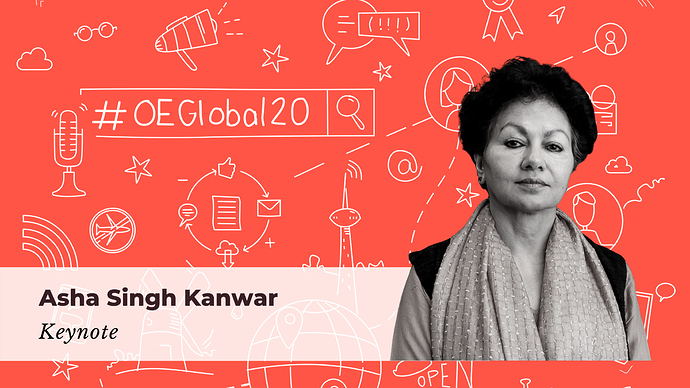 Session Description
The Commonwealth of Learning (COL) has developed a wealth of open education courses and resources and plays a leading role in supporting adoption and use of open education across the 54 nations of the Commonwealth. In this keynote, Professor Asha Kanwar will describe COL's open education strategy and highlight some of COL's open education initiatives.
During COVID-19, COL partnered with Coursera on a Workforce Recovery Program providing free access to 3,800 courses designed to skill and reskill citizens displaced by the pandemic so they can regain employment. COL established a helpdesk, with experts around the world, to provide unemployed learners with a choice of courses, administrative and academic support, along with mentorship and counselling.
This and many other initiatives have positioned the Commonwealth of Learning at the forefront of open education and brought its benefits to thousands of students around the world.
JOIN the Keynote November 18, 1:00 - 2:00 pm,Toronto-Ontario, Canada (GMT-4)
Meet the Keynote:
Asha Singh Kanwar is President and Chief Executive Officer of the Commonwealth of Learning. Professor Kanwar, one of the world's leading advocates of learning for sustainable development. Throughout a career spanning over 35 years, she has made outstanding contributions in the areas of teaching, research and international development.
Professor Kanwar received her undergraduate, Master's and MPhil degrees from the Panjab University in India and a DPhil from the University of Sussex, UK. Her areas of expertise include open distance and technology-enabled learning, open educational resources, quality assurance, gender and organizational development. Professor Kanwar has written and edited a dozen books, published over 100 papers and articles, and delivered numerous keynotes at prestigious international conferences.
Prior to joining COL, Professor Kanwar was a senior consultant in open and distance learning at UNESCO's Regional Office for Education in Africa (BREDA). She has also served as Director, School of Humanities and as Pro-Vice Chancellor at the Indira Gandhi National Open University (IGNOU) in New Delhi, India. She was a Fulbright Fellow for post-doctoral research at Iowa State University in the US, where she was later invited to teach. Currently, she serves on the boards of several organizations, including the Governing Board of the UNESCO Institute for Information Technologies and Education (IITE).
Professor Kanwar won several international awards, including the International Council for Open and Distance Education (ICDE) Prize of Excellence, and the Meritorious Service Award for outstanding contributions in open and distance education from the Asian Association of Open Universities. She has been conferred eight honorary doctorates from Universities in Asia, Africa, Europe and North America.