FeedbackFruits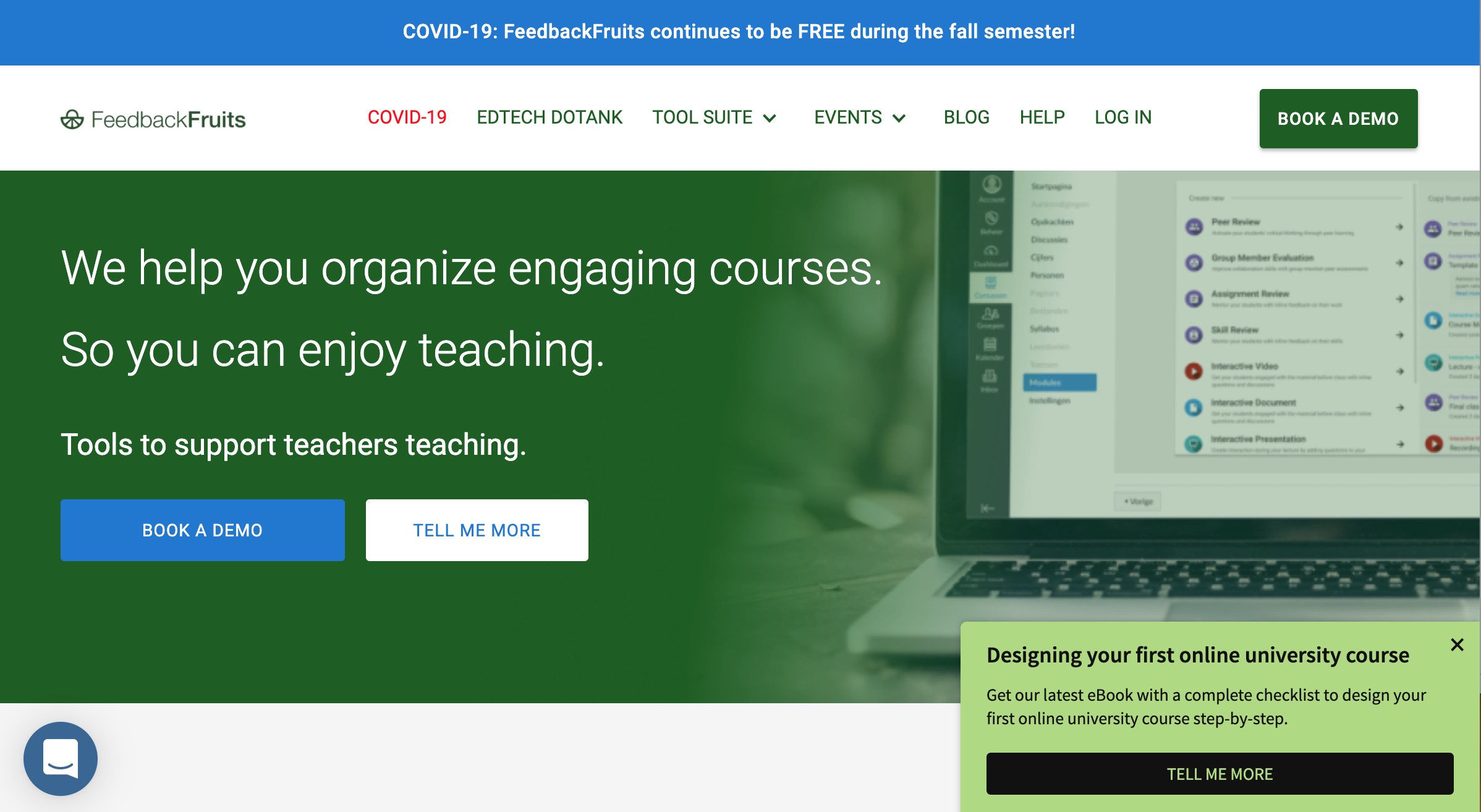 FeedbackFruits offers a complete pedagogical tool suite to organize engaging courses, allowing you to implement blended and online learning more effectively.
FeedbackFruits tool suite, consisting of 11 pedagogical tools, supports evidence-based course designs that have a proven effect on student engagement and learning outcomes. The tools flawlessly improve students' learning experience, resulting in a significant reduction of teachers' workload.
To support educational continuity and open education, FeedbackFruits offers all tools for free until April 1st, 2021 for OEG 2020 registrants at the moment. Click here to have more information.
Conference Activities
During OEG 2020 FeedbackFruits is offering a series of special demos sessions and opportunities for you to get a hands on experience with our tool suite. Message us directly with questions or times when you can join in for an interactive conversation.
Live Session: Finding the right Online Open Courseware at the right moment: The OCW Recommendation Engine (18th November, 4PM Canada time)
Sorting out course-compatible materials from the vast online sources is indeed an extremely overwhelming and time-consuming task for any teacher or instructional designer. FeedbackFruits Open Courseware Recommendation Engine research project aims to address this challenge.
In this session, we'll walk you through:
Introduction to FeedbackFruits and our Edtech Dotank projects
General operation of the OCW Recommendation Engine, how the tool harnesses Artificial Intelligence (AI) to enable quick access to the best open source study materials based on existing course documents
Presentors: Ewoud de Kok (CEO & Co-founder), Joost Verdoorn (Research and Development Lead) and Steffan Sluis (Developer)
Reply to this message with any questions or suggestions. We are excited to meet with you during the conference. You can also always book a meeting here with FeedbackFruits to share your use cases and get custom recommendations for your instructional needs.