There's enough being written about artificial intelligence by experts, pundits, et al that its refreshing to see a student perspective. Coming via a Mastodon post by my good friend/colleague Grant Potter I really enjoyed seeing this poster that is part of the Teaching, Learning & Research Student Showcase 2023 Posters at Vancouver Community College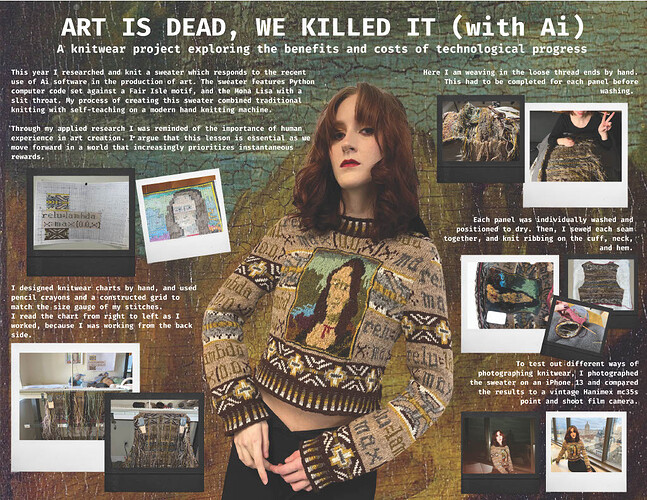 Art is Dead, We Killed It (with Ai) poster by Allison_Dunne appears in a VCC Library collection labeled licensed as Creative Commons Attribution-NonCommercial-ShareAlike 4.0 International License
From text extracted from the image*
ART IS DEAD, WE KILLED IT (with Ai)

A knitwear project exploring the benefits and costs of technological progress

This year I researched and knit a sweater which responds to the recent use of Ai software, in the production of art. The sweater features Python computer code set against a Fair Isle motif, and the Mona Lisa with a slit throat. My process of creating this sweater combined traditional knitting with self-teaching on a modern hand knitting machine.

Through my applied research I was reminded of the importance of human experience in art creation. I argue that this lesson is essential as we move forward in a world that increasingly prioritizes instantaneous rewards.
This is a powerful statement communicated in a creative way (I think so). Where else are we seeing anything that represents student perspectives on this burning hot topic? What are you seeing from students?
* As a bonus of reading this, my "trick" for extracting text from images (there are other ways of course) is to upload the image to Google Drive, and from there, use the option to open the image in Google Docs- it will extract any text in the image as text you can copy.