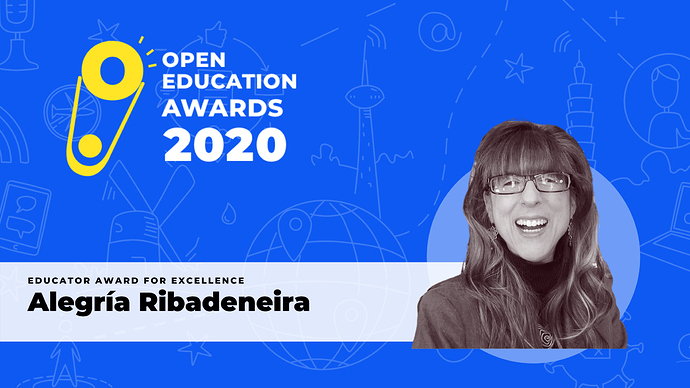 Alegría Ribadeneira is making an incredible difference at Colorado State University and in fact around the region, because of the amazing work she does for our students and the leadership she shows in approaches to teaching.
Alegría has found ways to make the varied living experiences and complex cultural backgrounds of our diverse student body into an enormous asset in their learning and commitment to their education. One of the primary ways she does this is by giving the students voice and agency in their work in her classes — i.e., she's been doing student-authored textbooks and renewable assignments purely for their pedagogical effectiveness! The openly available products of their efforts energize the students and gives them a feeling of the power of their own stories and of how these stories can be valuable for their education and not something to be ashamed of or to be papered over in a kind of self-censorship to fit with the dominant American culture. Take a look at these 'open' gems — a reflection of her ongoing work:
Additionally, Alegría has become a beacon to her colleagues of this kind of open pedagogy which empowers students … often using a range of new technologies and platforms. As such, Alegría's colleagues across campus have benefited by learning ideas of open pedagogy such as renewable assignments and student-authored learning materials, as well as supporting technological tools. Even instructors across the state and nation have similarly benefited as she has given workshops on teaching ideas and strategies at the state and national level, including her work with the National Heritage Language Resource Center at UCLA.
In recognition of this role as an instructional leader, Alegría has received campus, state, regional, and national awards, and has been invited to present in various fora including our recent online Colorado OER Conference.