On the heels of the recently published Handbook on Research Methods, the Global OER Graduate Network has published another timely, useful resource relevant to OER practitioners interested in current open education research.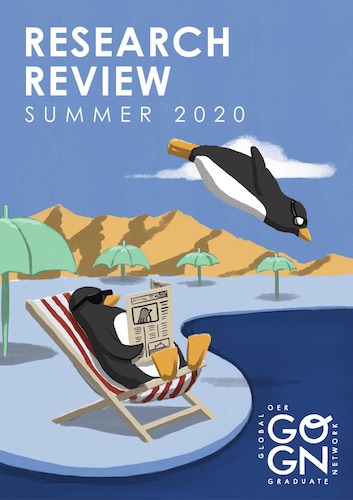 The Summer 2020 Research Review includes reviews of current research papers in the areas of open educational resources (OER) and open educational practices (OEP).
Written by GO-GN doctoral and post-doctoral researchers, the reviews
focus on the relevance of the papers for educational technologists, instructional designers, and educators working in higher education institutions with a particular focus on research into open education.
The 21 papers (17 published in 2020 and 4 published in 2019) reviewed cover themes of Accessibility, Adoption Studies, Open Educational Practices (OEP), Open Pedagogy, Open Educational Resources (OER), and o\Open Ecosystems.
Download a copy (shared under a Creative Commons By Attribution license) from http://go-gn.net/gogn_outputs/research-review-summer-2020/