If you have not observed I rather love using images (open licensed only!) in my posts…
Note: I most strongly recommend use of Openverse these days for finding Creative Commons licensed images where there is no question of reuse plus cut and paste attribution. But I am also a long time big fan of flickr, especially the Flickr Commons for public domain images.
But that's a tangent. If you do not know, while editing here in OEG Connect, you can add an image easily by dragging it from your desktop file into the editor (or use the image upload icon). Note that on the preview to the right you can also edit the images alternative description.
The discourse platform we use have added a feature to put a series of uploaded images into a grid layout all you need to do is to wrap all the images in your post inside [grid]....[/grid] tags. Or it looks like if you add a series of images, using the preview on the right side of the editor and click the grid icon in the first image.
I need to try it, using here a few of many flickr commons images I found tagged mysterysolved. See what happens when you click any image in the grid- it opens in a larger view where you can then navigate the series in sequence.
If there was a feature I'd like it would be to add a caption… for attributions.
This should create a lovely 2 column display in mobile view"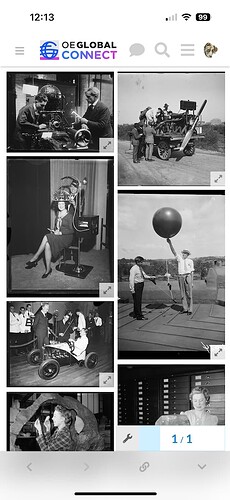 Do you love photos? Do you have an interesting set of images? Try the new grid view.