Many thanks to the OE Global community for your support for the ENCORE+ project (2021-2023) - which is coming to its conclusion next month! You are cordially invited to join us for our final conference (where participation is free).
The final conference is structured as 8 (online) sessions between 30th November and 5th December 2023, and encompasses all the themes the project has worked with over the last three years.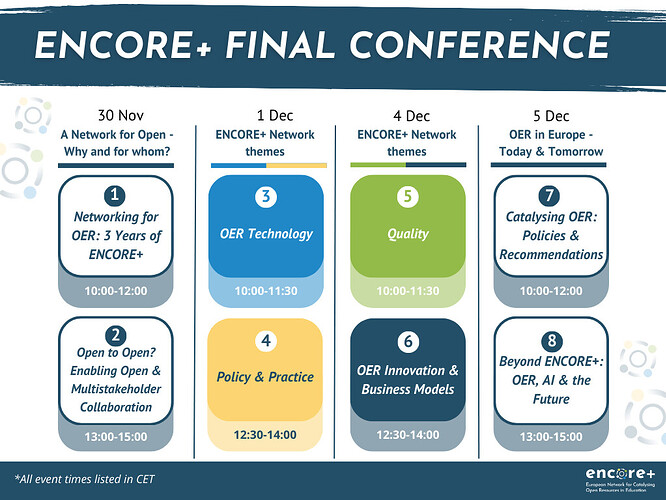 The conference will be an opportunity to discuss the results, outputs and lessons from the ENCORE+ Network over the past three years, and to jointly reflect on the future of the network.
Conference sessions:
More information about each event will be published shortly at https://encoreproject.eu/.
Session 1: Networking for OER: 3 Years of ENCORE+
Thursday 30 November, 10:00 – 12:00 CET

Session 2: Open to Open? Enabling Open and Multistakeholder Collaboration
Thursday 30 November, 13:00 – 15:00 CET

Session 3: OER Technology
Friday 1 December, 10:00 – 11:30 CET

Session 4: Policy & Practice
Friday 1 December, 12:30 – 14:00 CET

Session 5: Quality
Monday 4 December, 10:00 – 11:30 CET

Session 6: OER Innovation & Business Models
Monday 4 December, 12:30 – 14:00 CET

Session 7: Catalysing OER: Policies & Recommendations
Tuesday 5 December, 10:00 – 12:00 CET

Session 8: Beyond ENCORE+: OER, AI & the Future
Tuesday 5 December, 13:00 – 15:00
Register for the conference now at https://www.icde.org/event/encore-final-conference/