On Monday March 6 of Open Education Week 2023 we are recording a new episode of the OEG Voices podcast . You can be there with us in the studio.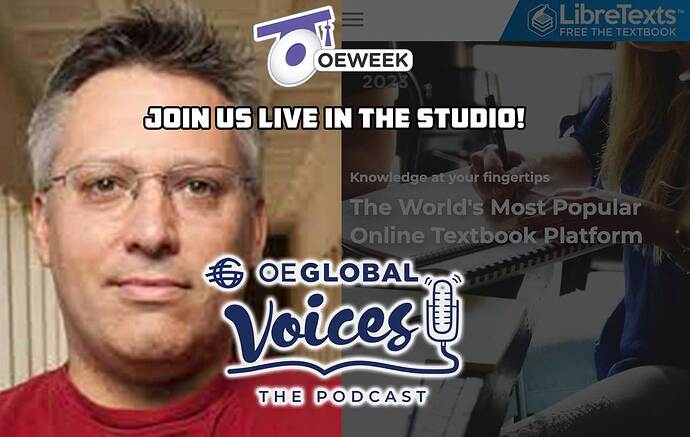 The OEG Voices podcast series provides a conversational style connection with key persons in our field… like Delmar Larsen.
Like we have done in previous years, we record special episodes during Open Education Week offering 10 seats in the studio to anyone who want to listen in live to the conversation.
This session takes place in your local time:
2023-03-06T23:00:00Z → 2023-03-07T00:00:00Z
The podcast will be recorded in Zoom (cameras never required) and space in the studio is limited to the first 10 registrants. Register now to secure your seat
This is a special opportunity to be part of a conversation with a recognized leader in Open Education. If you cannot be there, please reply below with any questions you would like to ask Delmar about his work with LibreTexts. Or how he manages to teach classes like Organic Chemistry while running the LibreTexts organization.
Yes, OEG Voices are not interviews, but conversations.
We will definitely talk about all of the activities LibreTexts is organizing for Open Education Week and as well the two Open Education Awards of Excellence given to LibreTexts-- one recognizing the LibreTexts collections in the Open Repository/Curation category and a second Open Infrastructure award for the LibreTexts OER Remixer.
Hopefully too we will learn about the newest LibreTexts developments and how you can be part of their world.
We expect this to be a lively discussion and you can be part of the podcast by signing up to be in the studio (or wait until it appears at https://voices.oeglobal.org/).
Again, reply below with any questions or comments you want us to relay to Delmar.