As part of Open Education Week, on Wednesday March 3 we are recording a new episode of the OEG Voices podcast. This time we are talking to Dr. Rajiv Jhangiani, Associate Vice President, Teaching & Learning at Kwantlen Polytechnic University a winner of a 2020 OE Award of Excellence as an emerging leader.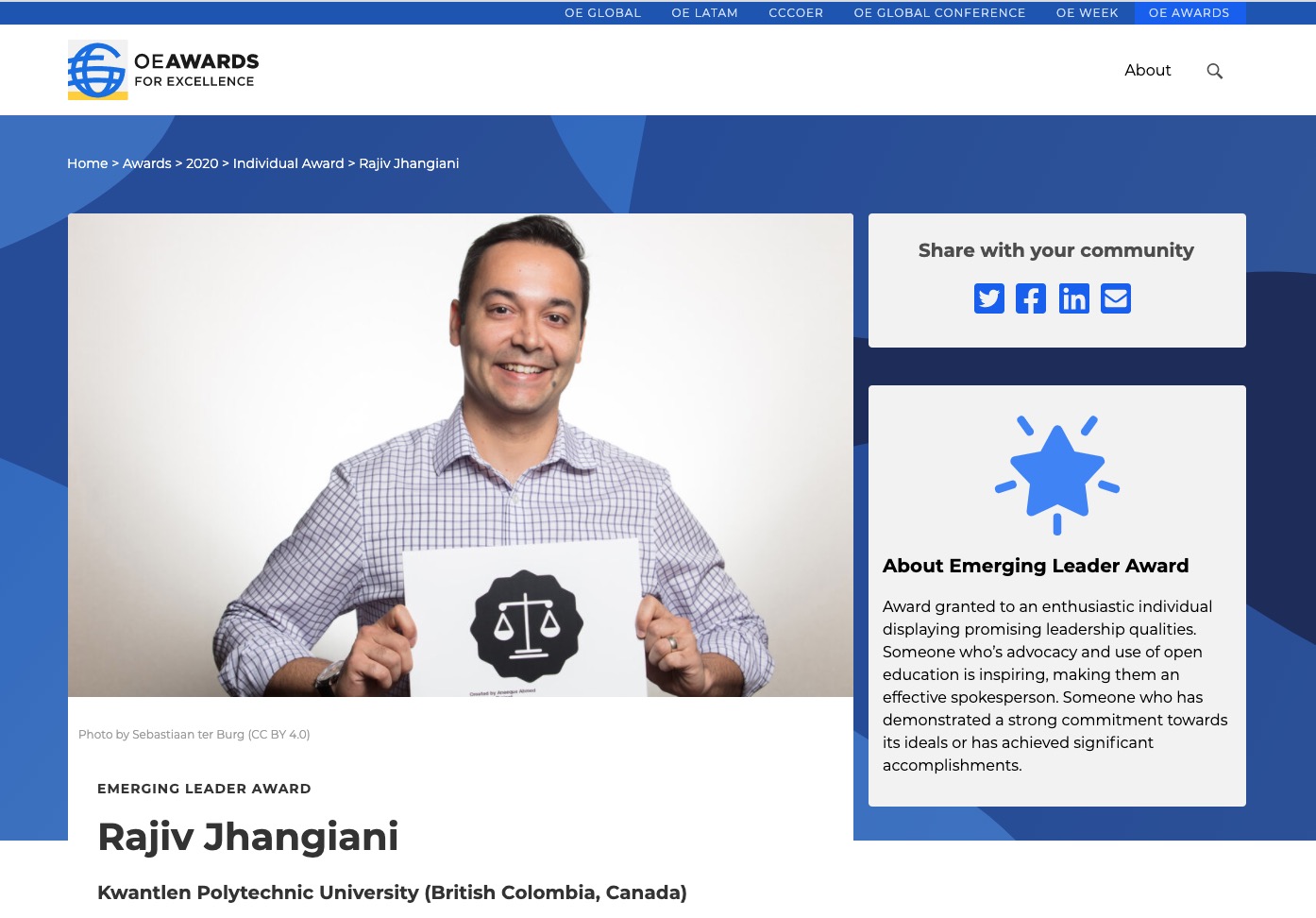 Rajiv has definitely emerged as a leader in open education practice, pedagogy, research, and organizational strategy. You are invited to learn more about his work and tap into his wisdom.
Together with Robin DeRosa, he co-founded the Open Pedagogy Notebook. He serves on the BC Open Education Advisory Committee, as an Ambassador for the Global Advocacy of OER for the International Council on Open & Distance Education, an Advisory Buddy with Virtually Connecting, and on the editorial board of Ubiquity Proceedings.
He previously served as an Open Education Advisor and Senior Open Education Research & Advocacy Fellow with BCcampus, an OER Research Fellow with the Open Education Group, a Faculty Workshop Facilitator with the Open Education Network, an Associate Editor of Psychology Learning & Teaching and NOBA Psychology, and an Ambassador for the Center for Open Science.
He is the architect of the Zero Textbook Cost (ZTC) initiative at Kwantlen Polytechnic University. It is a first-of-its-kind in Canada program that allows students to choose from over 800 courses or one of seven complete credentials–from one-year Certificate programs to a full Bachelor's degree–with zero textbook costs. Since the launch of the ZTC initiative in 2018, students at KPU have saved over $5 million in textbook costs. Rajiv has published research on the perceptions and efficacy of OER, as well as patterns of OER adoptions. His scholarship also includes articles and chapters about open educational practices, open textbooks in Psychology, and two open-access books about open education (2017, 2020).
If you would like a seat in the recording studio and/or to ask questions of Dr. Jhangiani, you can be there live when OEG's Marcela Morales and Alan Levine start the conversation. This takes place in your local time:
2021-03-03T19:30:00Z → 2021-03-03T20:30:00Z
The podcast will be recorded in Zoom (cameras never required) and space in the studio is limited to the first 10 registrants. Register now!
This is a special opportunity to be part of a conversation with a recognized leader in Open Education. If you cannot be there, please reply below with any questions you would like to ask Rajiv.