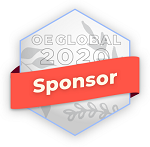 Moodle is the world's most used open source learning platform. With a big community of educators and researchers, Moodle's goal is to improve the quality and efficiency of education globally. With over 180,000 registered sites and more than 240 million users worldwide, Moodle's innovative software and services support the education and training needs of many organisations around the world. It powers institutions like the United Nations or the UK Government, companies like Google, Shell and international universities, K-12 and Higher Education schools worldwide.
In pursuit of their mission of "empowering educators to improve our world", Moodle's software gives educators and learners powerful, flexible tools for online learning and open collaboration.
Moodle's mission is supported by their network of over 90 certified Moodle Partners that can provide technical support, customisation, hosting and all Moodle-related services to help with organisations e-learning projects.
Live Session at OEG2020
MoodleNet as a Way to Organise OER Globally
Martin Dougiamas, CEO and Founder of Moodle
Session time : 2020-11-16T02:10:00Z → 2020-11-16T02:30:00Z