We like to recognize our OE Award winners in as many ways possible. We are adding all of them to our Directory of Awardees (if you are not listed for a current or past award, please use the Request button to be added).
Wearing Your Award as a Title in OEG Connect
You may see in your public profile (when you click any person's icon, the "card" that pops up) or your listing in the attendee directory it may not include the title of OE Award Winner. You can change that!
Without boring you with too many technical details, the default title is the one added when you first join OEG Connect. This is under your control, you can change that by editing your profile (that link will open only your settings when logged into OEG Connect).
Under the Title heading, you can select from several options – the choices come from OEG Group Membership (see below).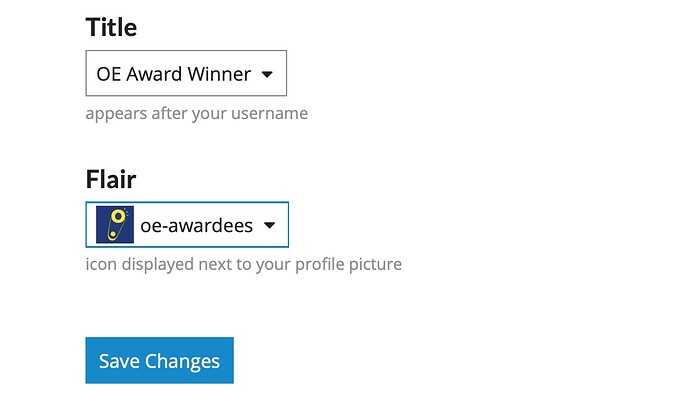 You can also choose "none" as an option for a title displayed under your name… although we hope you wear your Award Winner one.
What If I Don't Like Any of The Title Options?
Unfortunately you cannot create your own title, but as the system admin, I can! If you message me directly @cogdog tell me that you want to be known as "The Wizard of Open Data"…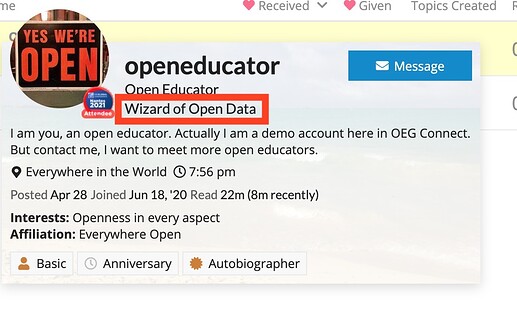 What is "Flair"?
Ahh, this means you looked at your user preferences! "Flair" are small badge like icons that are displayed overlapping your avatar (see the Wizard's card above).
The choices here reflect again OEG Connect Groups you are part of or badges you have earned.
As an example click on this demo account @openeducator
I hope this helps!