We encourage conference participants to share activity, presentations, posts to whatever social media platform(s) you engage with. All content in OEG Connect is built to share, just look for the icon

to copy a web address, or share directly to twitter, facebook, LinkedIn, or by email. Where possible share with a #oeglobal20 hashtag.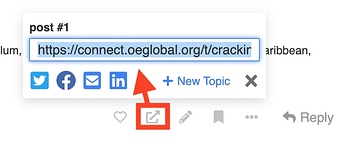 Where and in what social media platforms are you active? We have set up this post to be a wiki, so anyone can edit under the sections below to list where they are active. Look for the edit button below. If you wish to share where you share, just add to the list your OEG Connect username and the URL to your profile in each platform.
And add as a reply below, any kind of reaction, response, you got by sharing something from OE Global 2020 in social media.
Twitter
See latest tweets tagged #oeglobal20 as well as a visualization of the conversations generated by Martin Hawksey's Twitter TAGS
Yes, I share on Twitter (add @ + your Connect username and your twitter link):
Facebook
See Facebook posts tagged oeglobal20
Yes, I share on Facebook (add @ + your Connect username and your Facebook link):
LinkedIn
See LinkedIn posts tagged oeglobal20
Yes, I share on LinkedIn (add @ + your Connect username and your LinkedIn link):
Instagram
See Instagram photos tagged oeglobal20
Yes, I post photos on Instagram (add @ + your Connect username and your Instagram link):
Flickr
See flickr photos tagged oeglobal20
Yes, I post photos on flickr (add @ + your Connect username and your flickr link):
Another Social Media Platform
Where else do you share? Copy the format of the headings and links above to provide a section for another social media space