Share your day four highlights, discoveries, pictures, key learning by replying to this post.
On Day 4 & 5, I will be facilitating the 2-Day Free Virtual Workshop on "Converting OER into Engaging and Interactive Content using H5P".
Learning Outcomes
After participating in the 2-day hands-on workshop (2:00 – 5:30 PM IST), participants will be able to:
gain an understanding of Open Educational Resources (OER) and Creative Commons (CC) Licenses
find OER in multiple media (text, image and video)
build attribution in the TASL format using the Open Attribution Builder
convert static OER into interactive content using H5P for promoting learning interaction and assessment using the Lumi app
share H5P content and create H5P activities on Moodle
use interactive content for offline learning
Thanks Indira! I love H5P, it is so powerful for OER, and am fond of how the Lumi tool offers a fantastic way to create or remix H5P content. I hope you draw many interested people to your workshops
Please let us know here how the workshop goes and any examples of what participants produce.
We have a good number of H5P activities and resources on the OEweek map.
Sure, I will share the participants' learning evidences. As of today, 73 registered for the workshop. Majority are from India and four are from Cyprus, Malaysia and Uganda.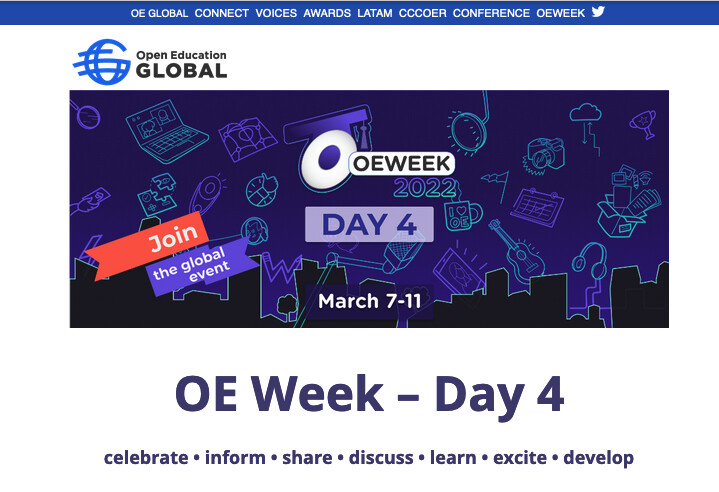 If you want some help planning your #oeweek day, you can take some pointers from this handy guide to Day 4. If you wish to receive tomorrow's guide in your email box, please sign up here.
I love the super sharer pup in the newsletter…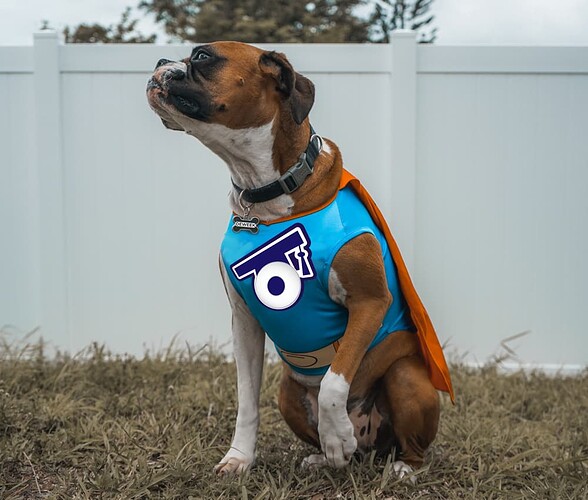 remix of Unsplash photo by Kerwin Elias
Started Day 4 off attending part of the the UNESCO OER Dynamic Coalition Webinar on Quality OER. Very interesting to hear about the findings of the ENCORE+ network catalyst in Europe which found a significant gap between leaders / managers and professional educators when it comes to quality perceptions of OER. Professional educators were more likely to have a positive perception of OER quality than leaders/managers.
This is a really important gap for us to be aware of and tackle within our institutions. Leaders and managers have a significant role to play in advocating for changes to critical systems, processes, and policies that support growth.
Hola! Your friendly OEWeek Asset correspondent here. Today, I have discovered OpenCourseWare Universidad Carlos III de Madrid, free and open access courses for self-training. This amazing, comprehensive Spanish-language platform includes 270 courses in, and a wide range of learning resources for, Social Sciences, Law, the Humanities, and Engineering. Thanks to Belén Mosquera for contributing this asset. You can read more about it here.
As a placeholder: localization experience… for a book about translation. Hope to dig deeper into those issues with OEG members, given the importance of adaptation. Thanks @MelB and @calam !
@Lena Thanks for raising the importance of addressing this leader / manager gap. I've been thinking about it a lot.
What is it that a leader / manager needs to know about open education? How do they find out?
And given my insight from yesterday that "open is best understood through doing" what are the actions open education actions leaders and managers can take? What does, "doing open education", entail for a leader / manager?
Today while perusing the OEWeek Day 4 Events and Assets I tried to put myself in the shoes of a Leader / Manager. I imagined being responsible for systems, processes, and policies and wanting to understand and do open education associated with those responsibilities. What does that look like?
I began to wonder, Could an open education learning and doing path be assembled for Leaders / Managers from the OEWeek program? If I am a leader / manager which events and assets are for me? Which ones pertain to systems, processes, and policies?
I acknowledge that adopting a leader / manager mindset for choosing what to engage in from the OEWeek program is a dramatically different strategy than the one @cogdog shared yesterday but it was fascinating to bring that lens to OEWeek and see what emerged.
I invite you all to try this for yourself. Take on the persona of a leader / manager. What OEWeek events and assets would you choose?
I think there is a lot there to choose from.
Which leads me to wonder about this gap.
To cross a gap you have to want to.
Perhaps the challenge is not so much that there is a gap but rather an absence of will.
Perhaps what is needed is not gap filling but motivation raising?
So, after four sessions, today…
Three were nominally about tools, the other one was a showcase. And that highlight on localization during the showcase carried through to Larry Green's session on adding interactivity through LibreText. In fact, @DelmarLarsen brought up the idea of using analytics to guide improvements in pedagogical efficacy! That might be among my highlights for the whole week!
Similarly, @amysong shared useful tips about changes in "cloning" during the Pressbooks Check Up.
In some ways, it's obvious, in the world of "5R OERs". "Opening" a resource (or "liberating" it, as @mariannedube might say) is about ensuring that downstream users will be able to adapt them. Surely, a number of sessions this week have a mention that a resource isn't really open if it doesn't allow for modification.
And, sure, Wiley's 5Rs were largely built on making resources appropriate for specific contexts, with associated thoughts on what makes the optimal resource. If a resource is too generic, it won't provide that much value. If it's too closely tied to a given context, it might be hard to adapt to another context. So, Lego blocks, chia pets, etc.
That's all within the "open content" frame. The value's embedded in the content. As befits publishers. Including open ones.
Also obvious, from the Open Pedagogy side, is that there's deep pedagogical value in the act of creating and adapting said content with learners. During that same showcase, Muriel Mignerat presented (with great humility) her project which involved learners in collaborative design. It ended up putting pressure on colleagues as these students were disappointed that other profs weren't allowing for the same process.
Thanks to Lynne Bowker, I now perceive a more active connection between "content is king" and "it's about working with learners". Bowker worked with an alumna from her translation program so they could localize a resource from Canadian English to Canadian French. Bowker gave a specific example about equivalent idioms in the two language varieties. Nothing to it, right? The kind of thing we take for granted.
As with, say, UX Design, it's about making those concrete decisions which have an impact on what learners will get. It's the same thing with Larry Green adding references to Tahoe in a version of a math textbook.
It's about the act itself. That decision to use a local idiom or a local example might do as much opening work as selecting a CC license.
As Github did for software development (before the Microsoft acquisition), some OE-focused platforms are oiling the machinery to make learning experiences contextually relevant. Some of these are really about OERs (and typically about textbooks). Some are closer to the "Learning Experience Platform" notion. Yet others take the hub or portal concept. There are ways to integrate all sorts of platforms in coherent setups. Locally.
To me, that's technopedagogical appropriation: making the experience your own and making it appropriate to your context.
Thanks for this prompt for a deeper dive, Paul! Here is some of the data from the excellent presentation shared that breaks down some of the areas where Managers / Leaders are cautious and where some opportunities might lie. For example, I was interested in the importance of using OER from trustworthy sources like repositories, and of course, the power of peer recommendation. These results suggest to me that it may be more of a gap of awareness than motivation? Interested in thinking this through further. Screen Shot 2022-03-10 at 10.16.44 AM|690x371
Also worth highlighting this week are announcements of professional development in Open Education, first from Kwantlen Polytechnic University
Check out the video for the KPU Professional Program in Open Education
I also saw (maybe it was in twitter) an announcement of the OER Commons Hub for Professional Learning