Everybody (well maybe not everyone) likes a good tussle with Creative Commons Licenses, here is my tossing something into the waters.
If I remix something that carries a Share-Alike license, then is it implied what I makefrom it carries that license? No, I do not think so, but I could not share it under any other license, right?
I was reminded of this when my good colleague @kenbauer posted a nice share (yes, in the fediverse!) of an old link of mine
The link was something I had written working on a 2014 DML Research Hub project on Connected Courses where participants contributed reflections from their own blogs syndicated into the project site (Ken still uses this approach well).
Blogging Like a Connected Courses Champion was meant to be a few (non-technical) suggestions to guide our blogging participants. As I like to do, I include in my posts some images to work as metaphors.
For this one, I had found a perfect on in flickr, CC licensed, of a young girl leaping in front of a stop sign. I had modified the STOP sign to read BLOG, that was my remix (I still enjoy this image):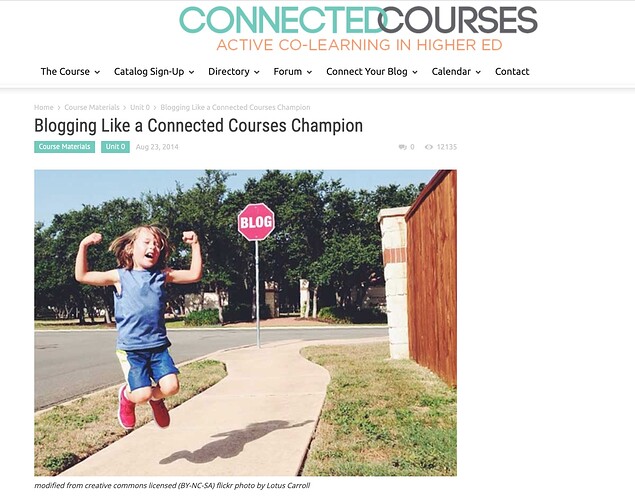 I would now give myself maybe a C- or worse on my simple attribution:
modified from creative commons licensed (BY-NC-SA) flickr photo by Lotus Carroll
For TASL (Title, Author, Source, License), I list them, but the only link to the image is from the image (and not even available any more). I also did not write who did the remix/modification, nor did I reiterate that what I created is licensed the same.
Now to me, any bit of attribution is better than none, but we can always do better.
I know now how I could do it better, but what about if I ask you, the people reading this post, how can it be done better? And clichés on assumptions aside, I cannot really say this implies my remixed version carries the same license, right?
C'mon, reply and play the CC license attribution debate game! (Alan will try anything to elicit replies here)