This is the week for the Creative Commons Global Summit in Mexico City – are you as envious as me of those who are at the gathering?
The theme is timely and that topic you cannot avoid, AI & The Commons.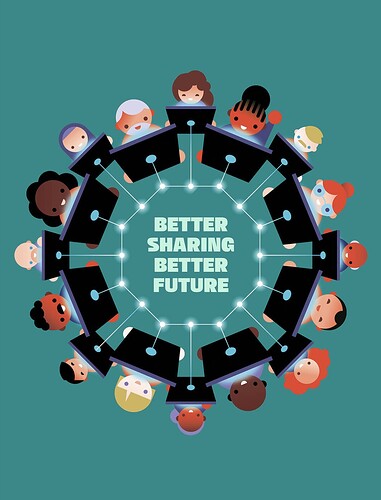 "Better Sharing, Better Future" by Maria Picassó i Piquer for Creative Commons and Fine Acts is licensed via CC BY-SA 4.0. See more art from the October CC Better Sharing Collection
You can see the keynote sessions that will be live streamed Wednesday, Thursday, and Friday Oct 4-6… If I understand correctly, these will be available directly as a CC YouTube live streams at https://www.youtube.com/@creativecommons/live
2023-10-04T14:45:00Z→2023-10-04T16:00:00Z
Summit Welcome & Keynote from Francisco Javier "Tito" Rivas Mesa - Livestreamed!
2023-10-04T16:00:00Z→2023-10-04T16:50:00Z [AI & Copyright] - Livestreamed!(PheedLoop)
2023-10-05T19:00:00Z→2023-10-05T20:00:00Z Keynote: Peter-Lucas Jones - Livestreamed!
2023-10-05T22:00:00Z→2023-10-05T23:00:00Z When Humans Create with Machines — Is AI Pushing Artistic Boundaries? Livestreamed!
2023-10-06T19:30:00Z→2023-10-06T20:30:00Z Keynote: Anya Kamenetz - Livestreamed!