Over the last months we've seen spurts of interest discussion around the fediverse concept .
A number of folks here have signaled their efforts by adding their mastodon usernames to their OEG Connect profile, as we track in a directory of sorts.
I for one have much to appreciate for the benefits of twitter since joining in 2007 and I am not cashing in my account, just recalibrating my attention to it. I suspect the new platforms are daunting or bewildering to others? or we are still finding the ways to use a decentralized social network.
Change is happening via TheTwitter CEO Who Shall Not Be Named, and an impact/sign has happened here.
We use the twitter API here in this Discourse powered site just to provide embedded previews of twitter URLs. We have just received notice that this "service" is suspended: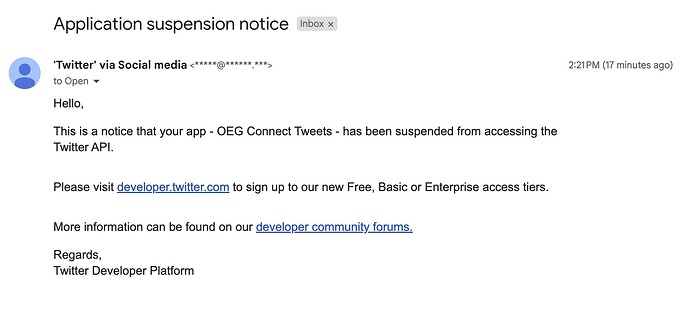 The "free" service they offer is of no help, it only allows use of the API to post items to twitter (e.g. things that send updates of new blog posts or bots that send messages). The "basic" tier offered is $100 per month! Who is going to pay that much?
It means very little, so here is a tweet (link) referencing this message added in a way that previously would embed the tweet here, just pasting the URL on a blank line:
https://twitter.com/cogdog/status/1646881957752479747
Alas, we just get a link. To include a tweet now I would have to take a screenshot, upload it, and include a link to interacting with it. I am not doing that.
UPDATE: A solution has been found, see reply below!
Now here is a link to a similar post I made in Mastodon added below on new line
As you can see Discourse is able to render a preview of this post. This is hardly earth shattering, but it is a sign. More twitter based tools will fall soon (I will miss the Twitter TAGS archive and visualizer!)
This may hardly be enough to tip your hand to deleting or changing your approach to twitter, but the writing has been on the wall for well over a year.
I am thinking now of perhaps organizing some mini activities for anyone here potentially interested in a short duration series of small activities to help you get not only started or oriented in Mastodon, but perhaps to start thinking about how we can create more of a connected space there for open educators.
Interest? Thoughts?