I really enjoyed the excitement and conversations of the live webcasts we ran during Open Education Week (all episodes available as YouTube playlist).
Now I hope to continue the concept with a new series we are trying this month as OEG Live! Open Conversations Live on the Internet (I am making this up as I go).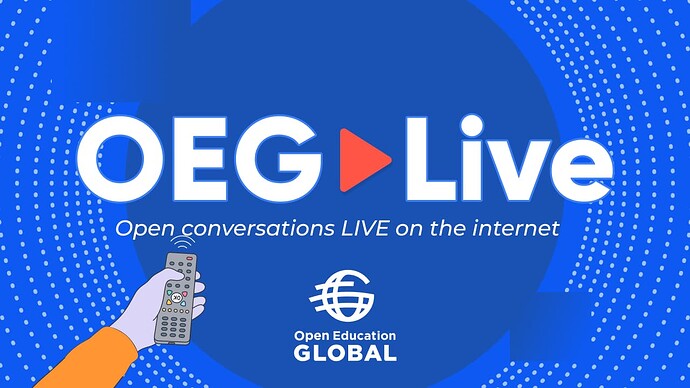 draft art work CC-BY by @Mario
The plan now is to start with two shows this month. The format again is unstructured, with topics guests bring or want to talk about. If you want to be in the studio with us, see the signup sheet below. But for now we want to put out a tentative schedule, with details to be added as we fill in the spots. Yes I have already adjusted the schedule!
Watch The Show, Live!
OEG Live! is streamed to YouTube for live viewing where you will be able to send questions/comments to the studio via chat. We now will make new topic for each show including the YouTube live stream/archive, so you can return to add comments/questions later.
Climate Change, Film Narrative, OER, and Education Futures 2023-05-04T19:00:00Z with guest Judith Sebesta sharing a new OER on Telling Stories to Save the World: Climate Change and Narrative Film plus guest Bryan Alexander, author of Universities on Fire a new book on the future of education and climate change.
Full details…

Regional Leaders of Open Education (RLOE) 2023-05-30T17:00:00Z We welcome the RLOE advisory team leaders sharing their ] submitted manuscript "Reimagining Leadership in Open Education: Networking to Promote Social Justice and Systemic Change". Guests include Karen Cangialosi, Carlos Goller, Esperanza Zenon, Rebecca Vasquez Ortiz, Deidre Tyler, and Kim Grewe
Full details…
This is still quite experimental and we fully intend to expand our schedule to more world friendly times and also to organize shows in other languages.