Our second OEG Live show is May 30 when we welcome the Regional Leaders of Open Education (RLOE) advisory team leaders: Karen Cangialosi, Carlos Goller, Deidre Tyler, Rebecca Vasquez Ortiz, Esperanza Zenon, Kim Grewe, Robin Taylor, and Tiffany Tang (learn more about this team).
They will be talking about a new manuscript that has developed out of this program "Reimagining Leadership in Open Education: Networking to Promote Social Justice and Systemic Change" as well as sharing more about the value of the RLOE program.
When (in your local time): 2023-05-30T17:00:00Z
Watch live on YouTube (or later). No registration required. Viewers can use the chat to ask questions/send comments that can be brought right into the studio. Or reply below your thoughts.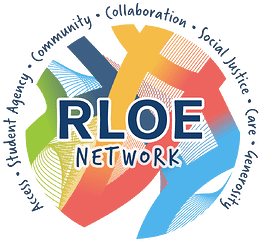 About RLOE
Learn more from the RLOE web site
RLOE is a professional development network to support strategic planning for open education aimed to improve and scale open education as a system reform that increases student success at postsecondary institutions with an emphasis for reaching underserved student populations. The program promotes a mantra of "leading from the middle" to invigorate participants' own agency for helping to shift institutional power to marginalized communities through values of access, student agency, community collaboration, social justice, care and generosity. Since 2021, the RLOE Network has supported 101 leaders (representing 66 institutions across the USA and Canada) across 2-year and 4-year colleges/universities representing HSIs, Tribal Colleges, and HBCUs.
RLOE is a CCCOER supported project sponsored by the EMCC Foundation.
OEG Live is Live!
This is the launch of a new series of open discussions as OEG Live, follow them all here via our oeg-live tag. Look for more shows there.