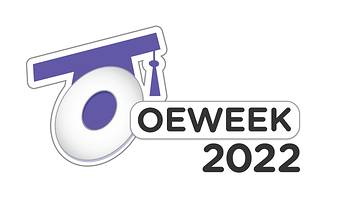 Here at OEGlobal we've talking about how the OEWeek Logo looks a little bit like a cookie. You know, one of those circular cookies with jam in the middle.
One of the most wonderful aspects of open education is the freedom to revise and remix. In celebration of that freedom I volunteered to host an OEWeek 2022 logo remix activity inviting all of you to remix the OEWeek logo in whatever creative way inspires you.
Here is my remix: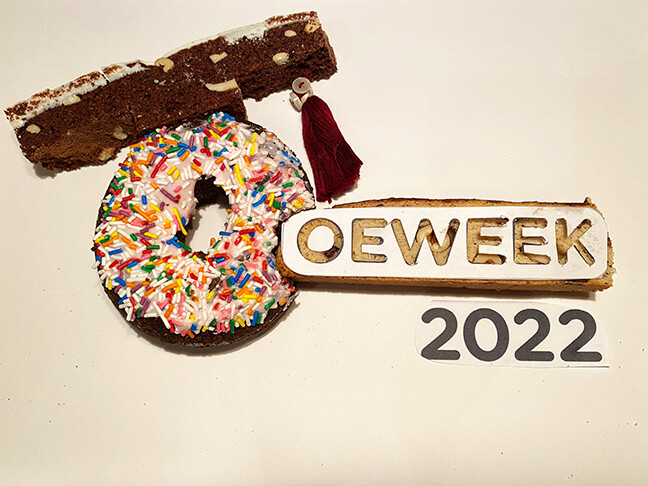 OEWeek Logo Remix by Paul Stacey CC BY
I got a donut from Lees Donuts on Granville Island in Vancouver. I chose this donut for the sprinkles on top, which in my mind represent the diversity of people practising open education around the world and the bountiful open education resources they have produced and shared. The logo has a small curved indentation on the lower right so to create that, well yes, I did take a small bite out of the donut.

Think of it as quality assurance.
Then I got two biscotti's from Laurelle's Fine Food bakery. I trimmed (OK well maybe nibbled is the right word) the chocolate espresso biscotti to shorten it and square off the ends for the cap on top. The fruit and nuts biscotti was also, ahem, trimmed, to create the rounded corners and used as the foundation for OEWEEK.
I printed out a copy of the OEWeek logo and then cut OEWEEK out of it using a sharp blade creating a stencil which is placed on top of the fruit and nuts biscotti. I placed the printout of 2022 below and voilà there you have it Paul's edible remix of the OEWeek Logo! Who knew remix could be so fun, and ummm, tasty!
Can't wait to see your remix and hear the story of your creation!
Add yours by replying to this post.