I'd really like to encourage use of Openverse for locating images (and audio) for OER work. It is the descendent of the original Creative Commons CC Search (any old links you have to that cleanly take to the new Openverse.
Here is where I make a case for Openverse:
If you are interested in learning about Openverse and how it works, we are fortunate to have Zack Krida from Automattic visiting our OEWeek Live! show on Wednesday this week
An OEWeek Openverse Challenge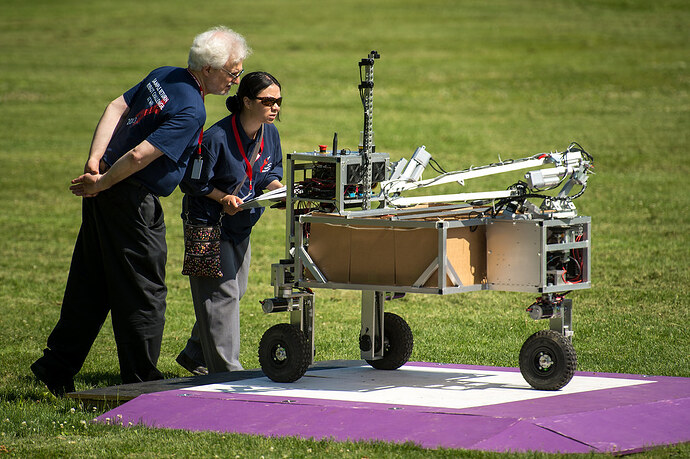 "
Sample Return Robot Challenge (201306050004HQ)
" by
NASA HQ PHOTO
is licensed under
CC BY-NC-ND 2.0
(
found in Openverse!
)
Here is a chance to give Openverse a spin rather than just going there and entering random keywords, hoping for results.
I offer a wee challenge:
In the spirit of attribution of OER as a form of gratitude, rather than a license obligation, Use Openverse to find an that image represents an act of gratitude?
Now here is a thing. It is easy (usually) to find images of specific things, objects, places by keyword. It takes a bit more creativity to find images that represent an idea or a metaphor. My suggestion for this challenge is not to use literal keywords, but are to ask questions:
What does it look like in the world when you see or experience showing gratitude or giving attribution? What are people doing? How are they doing it?
Who gives builds attribution and where in the world does this happen?
What are other settings where giving attribution happens?
What are other words that describe what gratitude looks like?
Look to replies below for a few examples.
When you find something, add a reply below that includes:
Include The image! (download the image as a file from the source, then drag and drop the image file to the editor here, that uploads the image)
share the keywords you used for your search
Include the link to the Openverse url that displays the image
Copy and paste the attribution statement that Openverse provides
Are you ready? Go to openverse and see what you can find for a metaphor.
We do not have prizes, but you might get a little badge here in OEG Connect.