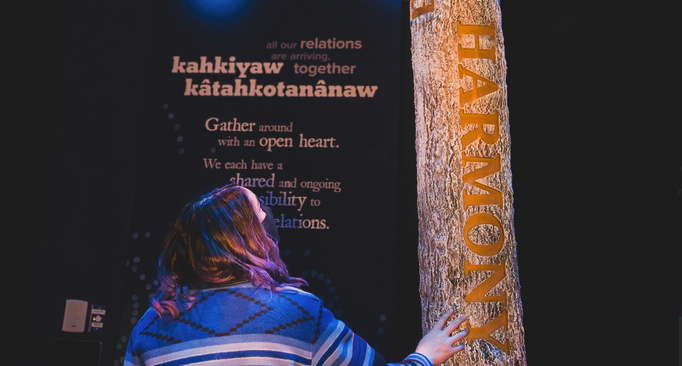 (Indigenous Peoples Experience: Fort Edmonton Park)
Celebrate and learn about Indigenous culture in a day-long immersive experience deep in culture, activities, and exploration with Indigenous knowledge keepers, leaders, and educators. Engage in group activities, hands-on experiences, and conversations to learn about Inuit culture and customs. Make meaningful connections through a personalized experience at the Indigenous Peoples Experience at Fort Edmonton Park, hosted by NorQuest College, exploring life from the perspectives of First Nations' and Metis Peoples from the Edmonton Region Amiskwacîwâskahikan, also known as Beaver Hills House.
This experience invites global visitors to learn more about Canada's history of Indigenous Peoples, the rich culture, strength, resilience, and survival through generations of broken promises, widespread discrimination, and the devastation of Residential Schools brought to Indigenous communities.
Event Details
Please bring a printout of your ticket for this event. This event is only for those who specifically registered for this pre-conference cultural experience.
Pre-conference activity includes
Transportation from the Chateau Lacombe Hotel to Fort Edmonton Park for international and non-Edmonton guests
Activities led by Indigenous elders, knowledge keepers, and educators
Admission to the Indigenous Peoples Experience with Indigenous interpreters
Lunch, coffee, and snacks with Indigenous menu items
Return transportation to the Chateau Lacombe Hotel
Program
07:20 - 08:00: Bus from Chateau Lacombe to Fort Edmonton Park Indigenous Peoples' Experience (for international and non-Edmonton guests)
08:00 - 08:30: Welcome. Hot drinks and breakfast breads.
08:30 - 12:00: Suviuvuga, Isumavunga, Tukisivunga - I do, I reflect, I understand - Jeanien Bell, Program Chair, Indigenous Studies
12:00 - 13:00: Lunch
13:00 - 15:30: Indigenous People's Exhibit with Interpreters
14:30 - 15:00: Afternoon tea (for those wishing it)
15:45: Bus from Fort Edmonton Park Indigenous Peoples' Experience to Chateau Lacombe (for international and non-Edmonton guests)
Notes:
Download: Directions for locals to the venue - Lot K (1.8 MB)
Download Map: Parking at the venue for locals. (6.0 MB)
Snacks and lunch will be provided.
Please wear comfortable clothing, and dress in layers. Temperatures at this time of year can be crisp.
Learning Outcomes
Participate in Inuit culture, customs, perspectives, and experiences
Explore the impact of historical and ongoing colonization on Indigenous communities and Peoples in Canada
Value the strength and resilience of Indigenous Peoples and how they have overcome ongoing colonization through their deep cultural practices and ways of knowing
Gain an appreciation of Indigenous knowledge and Two-Eyed Seeing perspectives
Jeanien Bell – Program Chair, Indigenous Studies, NorQuest College
Jeanien Bell (she/her) is an Inuk kablunangujuq educator, artist, and angajukKâk of mixed Inuit and Qallunat ancestry. Raised in a semi-remote sub-arctic village of 450 on the land, water, and ice on Nitassinan – the traditional territories of the Innu First Nation and her Nunatsiavumiut Inuit Ancestors. Guided by Inuit Maligait & Qaujimajatuqangit principles, Jeanien is fortunate to have lived her life immersed in the traditional land-based community centered ways of her Inuit Ancestors. Relationships formed on and with the land, the experience, knowledge, and skills acquired through traditional teachings motivates and inspires her life's work.
For the past 16 years, Jeanien has been an honored and humbled guest in the Treaty 6 & Treaty 7 Territories – the traditional homelands of her Southern relatives, the diverse First Nations and Métis peoples. She considers it a great privilege to live among her human and more than human relatives and she is thereby committed to fulfilling her relational obligations to respect and care for the peoples, skies, lands, and waters that sustain and support all life.
Jeanien humbly serves her community as AngajukKâk of the Inuit Edmontonmiut Community, co-director / co-founder of the Inuit Community Development and Education Foundation, Chair of Indigenous Studies at NorQuest College, and a member of the Métis Women's Council on Economic Security advising the Minster of Indigenous Relations on policies, programs, and services to improve the lives of Indigenous women, their families, and communities. Jeanien uses her gift of two-eyed seeing and her experience of walking in two worlds to serve Indigenous and Non-Indigenous communities alike, providing support, guidance, and direction to others so they may identify their unique gifts to uplift their families and communities, ensuring an increasingly just and equitable future for all.