We are excited to see you at the Open Education Global 2023 conference in Edmonton (Amiskwacîwâskahikan), Alberta, Canada, from 16–18 October 2023!
Keep reading for important information, helpful tips, and how to get the best from OEGlobal 2023.
It's not long until we see you!

1. What to do now
As an attendee …
Let people know you will be in Edmonton at #OEGlobal23 and why!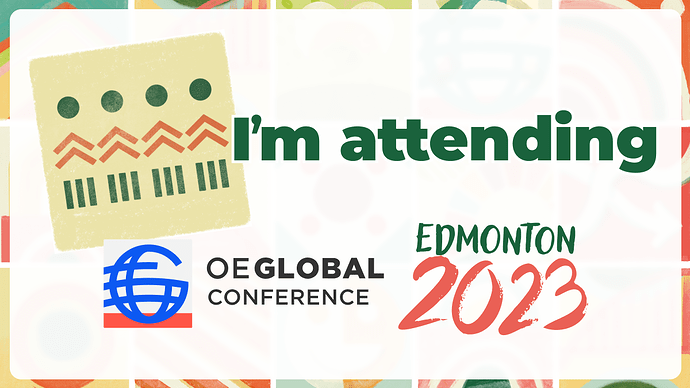 Engage on Social Media
Explore our OEGlobal23 Communications Kit
Use the OEGlobal23 theme visuals in your posts
Share photos and videos of your sustainable journey to #OEGlobal23 through the #ontheway campaign! Share how you're trying to make it as carbon-neutral as possible!
Most of our engagement will be on X/Twitter or Mastodon, so be sure to use the hashtags #OEGlobal23 & #OEGlobal !
Tag @OpenEdGlobal on X/Twitter or Instagram
2. Plan your trip
When you arrive in Edmonton
Important Information:
Digital Swag: This year we're going carbon neutral and as such have provided you with Digital Swag! Click here to see all of the experiences and discounts available to you.
Wifi Access: Internet network at the conference centre will be named 'Encore' and the WiFi code 'OEGlobal'
Breakfast is not provided at the conference venue, but there will be a lot of food throughout the day. It will be a busy few days, so make sure you fuel yourself prior to arrival. There will be fruit, coffee, and tea on arrival to start your day.
The social events are ticketed. Please bring your name badges to the social events that you have paid for. We will be putting coloured dots on them, and they are your ticket into the venue. Don't worry if you forget your badge. We will also have a list of attendees at the event. Check-in with our volunteers if you forget. Please note: no tickets will be available for sale for any of the social events during the conference.
If you are not feeling well: please do not attend. Watch the live stream here! Masks will be available at the Welcome Desk at the Edmonton Convention Centre.
Need help?

Find it online here.


Read our safe space guide.
At the venue: Look for NorQuest's Digital Marking and Venture Development students. There are around 180 of them cycling through the three conference days. They will be working on a Community Service Learning (CSL) credit project and there to support presenters and attendees, posting to social media and working on sound bites of your experience at the conference! They'll be wearing red vests so they are easily identifiable. Please support them and their experience as they work to support you!
3. Explore and bookmark the OEGlobal 2023 Program
The entire Open Education Global 2023 conference program is visible on Sched. Please note, there may be changes over the next few weeks.
You should have received a Welcome email from Sched. If you haven't, please email us. If you haven't used Sched before, please register to access the site. You can download the app on your phone – Apple • Google Play – to have the OEGlobal program in your hand.
Navigate the OEGlobal23 program
Not sure what to watch or where to start? Check out our Conference Session Samplers on OEG Connect!
The 3-day in-person event has an exciting schedule of 193 sessions. There are 4 exciting keynote speakers who are all exploring the sustainable future of open education:
You can also look forward to …
If you are interested in specific tracks, then view the sessions arranged by theme (the platform allows you to bookmark your favorites):
A program of this complexity would not be possible without the help of our Program Chairs and the amazing OE Global 2023 Review Committee. Thank you to all!
4. Braid in OEG Connect
Engage in the conference vision of braiding – and share with those unable to be in Edmonton – by joining the discussions on themes and the topics raised at the OEGlobal 2023 portal on OEG Connect.
New to Connect? Create an account directly (here).
Share insights and experiences on social media (more below)
Discuss and share your thoughts on the main themes of the conference – here are some discussion points to get started: