This OEG Connect environment is available as a place for sharing and connection amongst attendees of the OEGlobal 2023 conference and those who cannot travel but still wish to be part of the activities.
Connect is powered by the open source Discourse platform, and as a discussion environment, is one driven by the activity of conversations-- and it might seem unstructured. This is our guide to navigating and participating here. Read below or jump to any section
(1) The Main Conference Area
You can find the main entry to the conference area at https://connect.oeglobal.org/c/oeg-2023 but also via the category link on the left side of OEG Connect.
The opening area is like the lobby, a place for greeting and general conversations. We have created four conference spaces shown in the top blocks, each leads to a different series of conversations.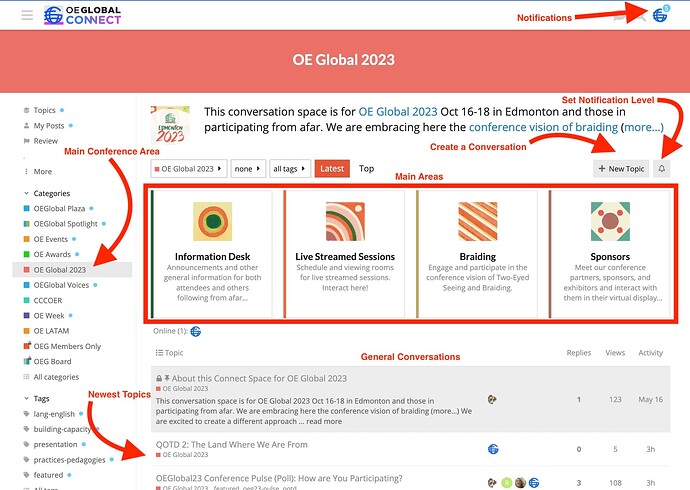 (2) Reading Versus Replying/Posting
Everything in the OEG Connect conference space is public to read, but the real value is in being part of the conversations. To do this, you need to create an account. If you have an account, just login again, But if you have not created an account, you can signup to create an account.
Now if you create a general account, the Discourse platform sets you at a basic level of user. To gain access to more capabilities, you can do so by first reading a few posts, clicking the like button, and replying to existing posts.
But, if you are a conference attendee, you will get a special link by email to join OEG Copnnect, that lets you enter with more advanced capabilities (if anyone wants an invite link, contact us via connect@oeglobal.org).
Okay, you are logged in., now what?
(3) Filling out your profile
If you click on any users link you will see a mini profile card, and if you click that again, you can see a more detailed profile of any logged in user. Make suer yours has approporiate copntact information, afiliation, maybe a custom icon,
If you are new to connect or maybe have not updated your account in a while, please visit your OEG Connect Profile to provide as much information that you would like others to see.
Where is this profile edited? Use the top right drop down menu under your avatar, and then click the little person icon. That's a few clicks away! You can also go directly by this link to edit yor OEG Connect Profile.
(4) Add Yourself to the Conference Directory
This is completely optional, but to find other conference attendees who are here in OEG Connect, you Show your interest in the conference by adding yourself to the group for the OE Global 2023 Conference Contacts . Use the Join button in the top right to request to be added.
While you are in there, explore the names and profiles of other attendees. You can learn more about them and use the message button to contact them.
(5) Bump Your Notifications
OEG Connect uses some logic to keep you posted of replies, or topics you have chosen to be of interest, or entire areas of the site where you want a high level of notification.
This is not necessarily mean a flood of email! If you have been active in OEG Connect recently, the notification shows up as a number above your icon. If you are away, OEG Connect will notify you gently by email. You can update your settings to control how often you are notified by email and also enable/disable alerts on your device.
During the conference, you can increase your alert level of any of the main conference areas but
look in the top right of say the (main common space](OE Global 2023 - OE Global Connect) for the

bell icon- click to set your notifications to "Watching" which keeps you informed of new activity when you return to Connect.
You can also increase your notification level for a single post, look for the same bell icon in the bottom right corner.
(6) Read and Reply and Start New Conversations
See the latest conversations in the main area to find something you can contribute to or start a new one via the New Topic button. Or see what you might want to read or explore in the other four main conference spaces.
While reading, use the like button (like we have to tell you how to like, but notice we have a few icon choices).
Also note that every topic and even every reply in Connect has a link you can copy to share.
(7) Compose Like an OEG Connect Pro!
The visual editor should be relatively intuitive, you see a view of Markdown/HTML where you compose, and a live preview on the right.
You can add images to a message by simply dragging and dropping from your copmputer or bia the add Image/File icon in the menu bar.
There is much more you can do! Like embedding media, creating image galleries, creating time code stamps that display in a readers local zone… Many details are available in our Guide to OEG Connect
Hopefully this gets you started being an active participant in Connect. If you have any questions, contact us via @connectbot
And there is another valuable participation trip, if you refer to a person while compsing a post or a reply, start with the @ sign and continue typing their name, see if their OEG Connect handle comes up… . I might just want to recognize or send a notice to say, @igorlesko – including another users account name here will send them a notification… Will it work, Igor?

return to the OE Global 2023 Conference conversations