Try this out, a live radio station on the web that plays music from artists on the fediverse, all openly licensed. Give Radio Free Fedi a try, "sound from the fediverse to the universe"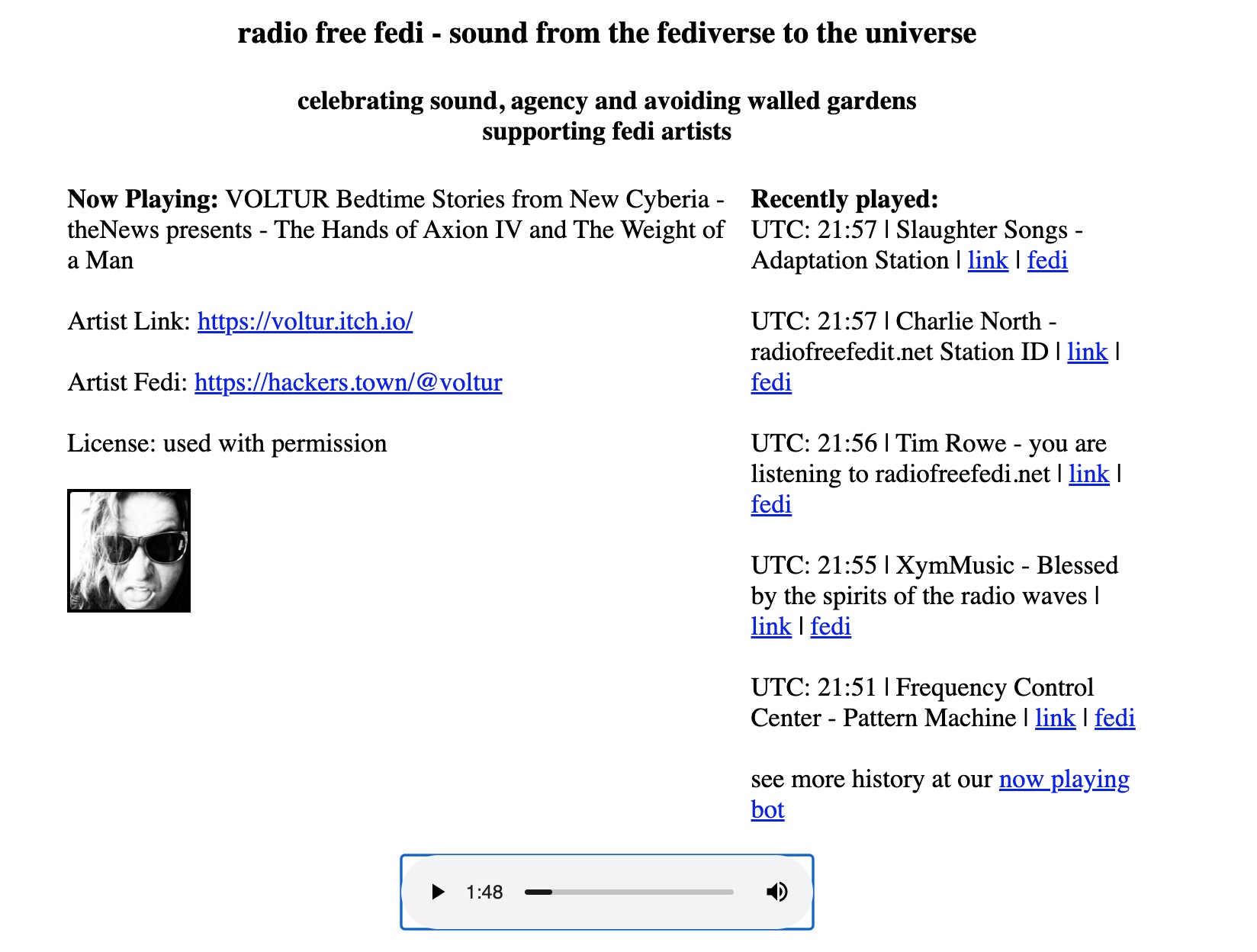 Visit Radio Free Fedi and click the audio player!
It's a low fi web site with a powerful purpose:
This is small web, consent driven, artist populated, non-commercial mechanism, attribution promoting, community radio for the fediverse. As with everything your mileage may vary but let's try this out and hope we can discover some of the awesome talents that are on the fediverse.
We think there is a way to promote each other and co-exist in such an effort leaning a bit less on walled gardens even with blended license and attribution models since attribution and consent are paramount. Any original material from radio free fedi is CC-BY-NC-ND. Any merged or derivative pieces are presented as with permission for radio free fedi and attributed to the collaborators and we note the license and artist link for the original work if applicable. All music and words we play retain the license that shows on this page for each piece as per the artists' wishes. All copyright materials we play have been consented by each artist for streaming only on radio free fedi.
Right now I am hearing an electric guitar rhythm upbeat pop.song --,Circuit Static - "Night Stalker Returns"
Artist link: https://circuitstatic.bandcamp.com/
Artist Fedi: https://dice.camp/@cosmality
Next, is a funky remix that opened with a soft electronic beat over a kind of sports broadcast, now into some kind of moody song, the idea of love as having some kind of announcer overlay? Curious, interesting.
Minutes to Midnight - "Love Field"
Artist Link: https://minutestomidnight.bandcamp.com/
Artist Fedi: https://indieweb.social/@m2m
It's live so it's always changing! Try Radio Free Fedi for some background music, and let us know if you hear an interesting track.