Stirring up the AI pot again here… surely there's not too much talk going on? I for one am curious for what people have seen / read that help an educator,student, administrator understand how it works.
What's your current go to "explainer"? Tell us!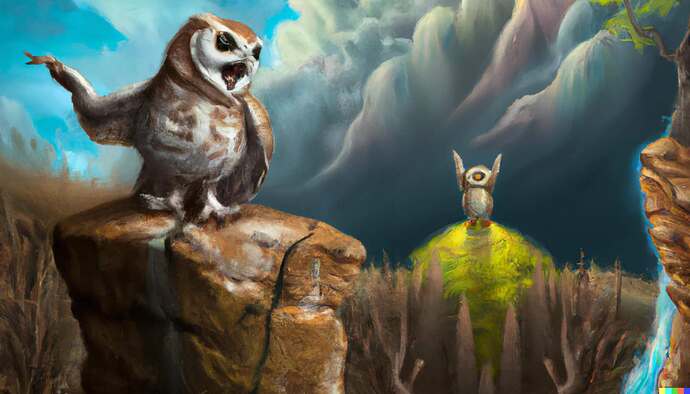 Generated image, using the extra generation frame, spawn by Alan Levine using DALL-E with prompt "A wise owl standing on a large rock with hand in air explaining a complex topic, digital art" Who knows how to license this stuff?
The most recent is a well crafted New York Times piece "Let Us Show You How GPT Works — Using Jane Austen ($wall link but I find you can get a readable version if you click from a google search result).
It's impressive in showing the interactions involved using a smaller scale version of AI ("BabyGPT") running on a laptop, trained on content from sources you can pick such as Jane Austen, Shakespeare, Star Trek, Harry Potter, and a few more. It's illustrative to see how it goes from pure random characters, and iterates many times, to first produce basic random words, and eventually something similar to the source material.
Helpful, but still-- what is it doing?
A few others I have tracked include:
I meant to list only 3 but here are many more… what are you using to explain this rapidly moving spectacle to your colleagues, family, kids? And then what the heck does this mean for our open education perspective?