During an unscheduled block of time I checked the Open Education Week schedule and picked one upcoming session from the ones listed at the top. I am over the moon/stars/sun happy I picked the University of Alberta Lightning Talks #1 session as I came away not only impressed, but with resources relevant to a current project.
When we go to in-person conferences, a typical strategy is to mark off the schedule for presenters you know or respect, topics of interest, sessions in your subject area. I also use a counterintuitive method- I will pick a session where I do not know any presenters or a topic outside of of my interest area. Invariably, I leave with unexpected gems. I have seen a similar practice described as "structured serendipity."
These talks were part of the program of the University of Alberta Open Education Symposium. In the session I attended, Krysta McNutt hosted the 5-7 minute lightning talks from:
Samer Adeeb, Professor, Civil and Environmental Engineering
David Hay, Teacher, Elk Island Public Schools; Callysto Ambassador, Cybera
Michael McNally, Associate Professor, Faculty of Education, School of Library and Information Studies, University of Alberta
Valentin Villatoro, Curriculum and Instruction Specialist, Northern Alberta Institute of Technology
Joerdis Weilandt, Teaching Development Facilitator, University of Lethbridge
Below I share a few notes and links from the talks, but have to say that seeing a small window into open education activity at one university strongly indicates how broad the field is. And thus at the same, it is a monumental challenge to take this all in. Despite how any "thought leader" summaries the landscape of open education, I see no human way to really see it all.
Samer shared a publishing platform developed for an open textbook on Engineering Mechanics Statics https://engcourses-uofa.ca/books/statics/
David shared his perspectives in teaching data literacy and making use of open data via fabulous teaching resource he is part of Callysto
Michael's presented on "Openness and the Academy" but got my attention with a project to bring open educational resources to communities in the Northwest Territories that lack access to high (or any) speed internet.
It was a discussion of a technology in development called "Nimble" that offers web platforms to places without internet by running from a local miniature server (do I recall it was solar powered too?) that establishes a local wireless network (as mentioned in chat like the Internet in a Box project)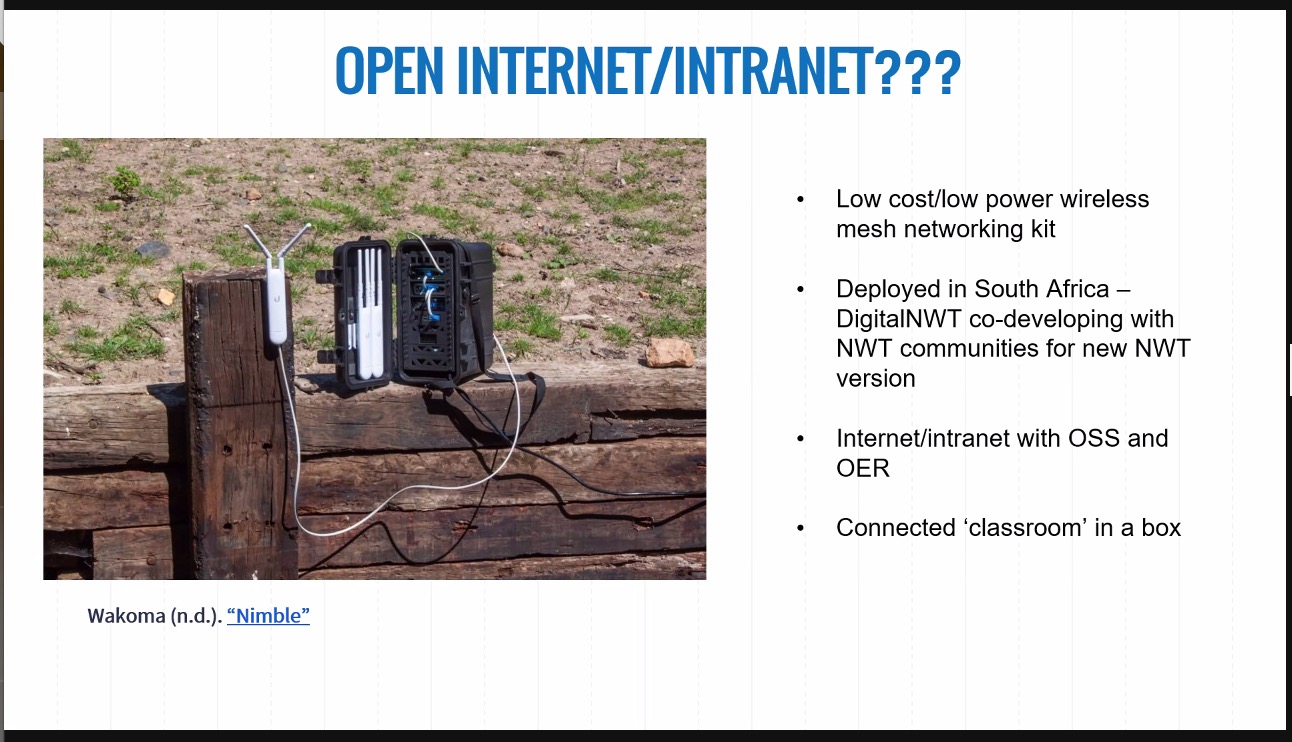 The transmitter mounted on a post is nicknamed "The Cockroach"! But Michael mentioned that this local intranet could provide information from WordPress and H5P, a platform I am involved with for a project with BCcampus. We are looking for solutions that could bring this form of OER to remote areas of BC, and this looks viable.
Valentin shared how students are involved in creating OERs for a an open textbook- A Laboratory Guide to Clinical Hematology. A database provides a peek into the materials being developed.
And Joerdis provided an excellent presentation on a WikiEducator project on Advancing gender disparity online – where the student are using Wikipedia to look at gender disparity in Wikipedia. I was unaware of the WikiEducator dashboard that provides an overview of all projects, but also details on specific ones.
See how Joerdis uses Pressbooks to structure the projects in Women in the World Today. Comparative Studies – Canada and Japan
This open textbook is the course resource pack for an academic English course that is designed to address gender disparity online, and more specifically in Wikipedia. Students will join the international encyclopedia community to enhance and apply academic skills relating to critical digital literacy, research, critical thinking, factual writing and professional communication. The assignments in this open textbook constitute of progressively sequenced formative learning activities that take students through the essentials of becoming proficient Wikipedia contributors.
Thanks again U of Alberta presenters, I am so glad I click wandered into your session.