I have an interest in both platforms and successful implementations of providing open education and/or using OERs, in places lacking internet connectivity. One project I am part of has an interest in providing the capability of interactive H5P within Pressbooks being used in remote areas lacking internet connectivity.
My interest was sparked during Open Education Week when I almost randomly picked a lightning talk session from the University of Alberta, and happened to hear about a project there aimed at bringing educational content to remote parts of the Northwest Territories. They shared a platform called Nimble originally developed for use in South Africa (does anyone know more about this?). I heard that the current project from University of Alberta was able to run Pressbooks/H5P from this platform.
I am confident within this community are plenty of examples.
These typically involve a localized server device running a self-contained web server offering wireless access to learners within range, the project that first comes to mind is Internet in a Box with many options to run from Raspberry Pis and/or old laptops. The platform runs a wide range of services, including Moodle, content from Wikipedia/Internet Archive, eBook servers, WordPress, and more. There is much more information in their FAQ and examples you can explore that came from the Medical Information In a Box project.
A similar project/product is RACHEL from World Possible " The World's best educational resources, neatly packaged for places without internet." which looks more aimed at those who do not want to sort out the technical set up of Internet In a Box.
My own interest was sparked by some experiments long ago (2011) with the PirateBox, which included a script to modify the capability of an inexpensive wireless router to run a local web server. My experiment was more in the idea of a digital storytelling "StoryBox" and the concept of ephemeral internet. I made 3 of them in various containers like a lunchbox, a plastic toy box, an lastly, inside on old camera.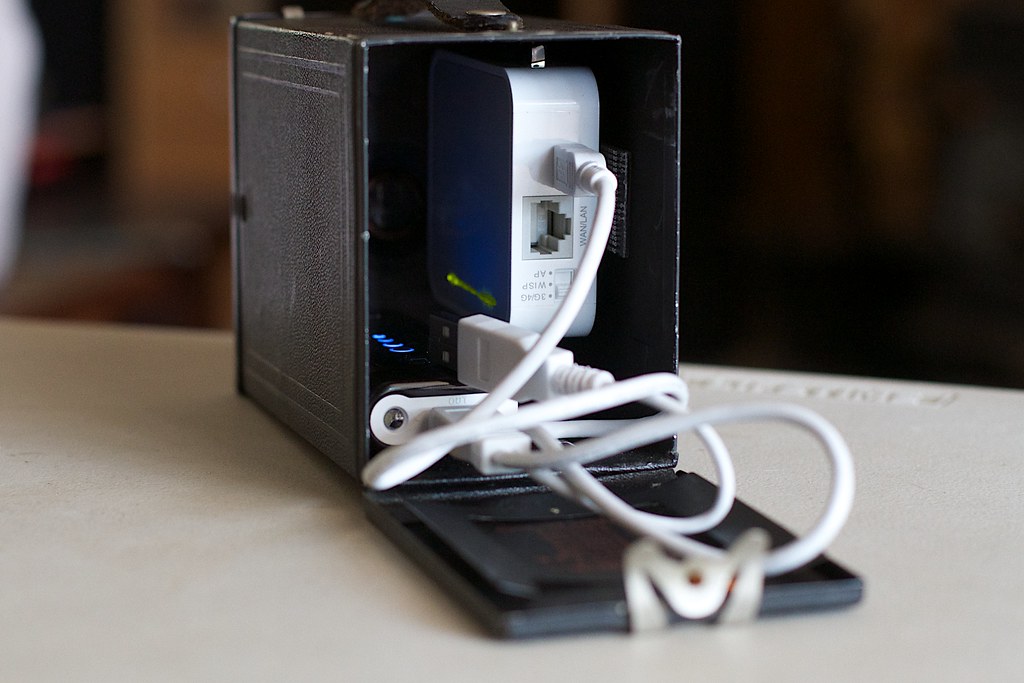 I did come across the Internet in a Box then, and recall one project where a local installation could possibly be updated nightly communication with a passing satellite (that's my memory, I cannot find that information any more).
And I did some experimentation with KoboToolbox which was an interesting approach to collecting data on mobile devices in locations lacking internet that could later upload when you returned to a location within connectivity.
I am curious to hear of other types of projects or maybe if there is interest in brainstorming what these approaches can mean for Open Education. Some of the early efforts were framed on being able to bring content to areas lacking internet, but there seems like we can do more in terms of providing interactive and activity based learning with web-type services where there is no internet.