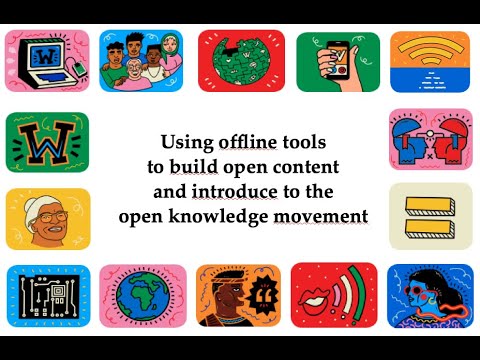 Florence Devouard (Wiki in Africa)
Last year, during OEGlobal, I presented
- WikiFundi(1), an open-source offline editable wiki-based environment that provides a similar experience to editing Wikipedia (and Vikidia) online as well as
- the WikiChallenge Ecoles d'Afrique (2), a writing contest using WikiFundi and running in a dozen of French speaking African countries.
But those are not the only initiatives which propose to help kids get access to knowledge and improve their digital and social skills in offline contexts. There are other exciting initiatives worth knowing about.
It may be worth clarifying that "offline" refers to situations and places with little to no connectivity, generally speaking all parts of the world where internet access is restricted, expensive, or unavailable: including schools, clinics, prisons, refugee camps, disaster areas. This presentation intends to provde a broad perspective
This year, I propose to share a broader perspective and expand the scope of last year presentation, to give an overview of offline tools and ressources available, as well as initiatives happening in the wikimedia ecosystem, in relationship to the education sector
(1) https://connect.oeglobal.org/t/wikifundi-an-open-source-platform-to-learn-new-skills-and-collaborate-on-wikipedia-like-articles/396
(2) https://meta.wikimedia.org/wiki/WikiChallenge_Ecoles_d%27Afrique/en
Extended abstract: OE_Global_2021_paper_72.pdf 📄
---
Links to projects and services mentioned in the video
Presentation Details
UNESCO OER Action Area: Building capacity
Format: Pre-recorded Presentation
Language: English
---
Participate
Pre-recorded presentations will be added below by the author(s). Watch them anytime during the conference.
Join or start the conversations with the author(s) by replying below with questions or comments, paying particular attention to the relationship to the OER Recommendation Action Areas. Please also share related resources.