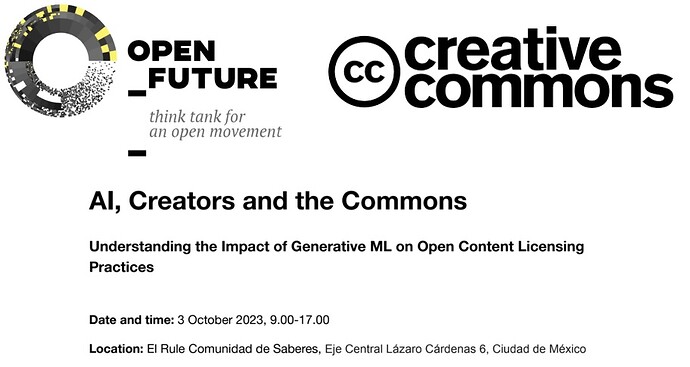 I had the great pleasure of attending the Creative Commons Global Summit on AI and the Commons in Mexico City October 3-6, 2023. As part of that experience I participated in a pre-summit workshop organized by OpenFuture and Creative Commons on AI, Creators and the Commons.
Generative AI has disrupted openness and the commons sparking considerable discussion and re-evaluation of our collective work. In an effort to contribute to that conversation I've written a blog post AI, Creators and the Commons summarizing some of what got discussed at this pre-summit workshop. It reveals the many questions and issues that have surfaced and initial ideas for reconciling them and finding a way forward. I hope it is of interest to all of you and welcome discussion here.
The workshop and summit further motivated me to be proactive about shaping policy and regulation pertaining to AI. In hopes of motivating others to similarly be proactive I've written a separate Policy Recommendations for Canada's AI Act blog post describing the briefing note of policy recommendations I submitted regarding Canada's draft AI Act. As always feedback and discussion welcome.