The end of this month, year is just about here! For OE Global, this means saying farewell (but not goodbye) to Executive Director Paul Stacey (@paulstacey), who is transitioning out of the the role he held for five years.
We invite you below to reply below with any messages, memories, stories, gratitude to send to Paul as he moves on to his next steps.
This has also been an exciting time to welcome on board our new Executive Director Andreia Inamorato (@Andreia) who is settling in to lead OEGlobal into its next phase. If you have not listened already, we recorded a conversation between Paul and Andreia about this transition and as an opportunity to get to know Andreia.
Open Music For Paul
As part of the staff send off for Paul we have curated a playlist of open licensed music from the Free Music Archive (FMA) as Music for Paul one of the highlights on our new FMA Curator page.
If you want to add to the collection, just reply below with the web address for a Free Music Archive song that makes you think of Paul or maybe suggests a wish for his future.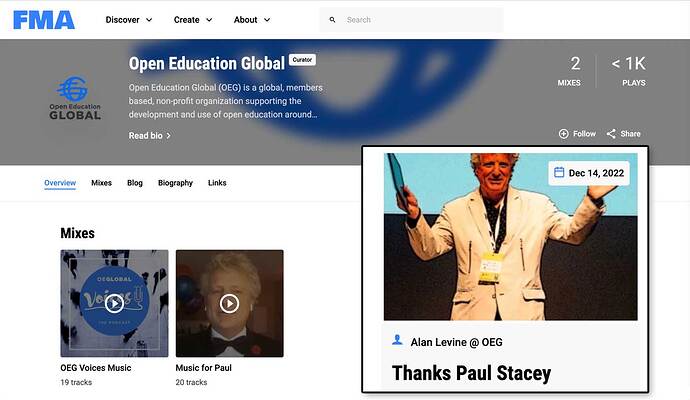 Music for Paul
a new FMA playlist.
Share a Message to Paul
Repeating from above, we invite the community to share any messages or greetings to Paul, just reply with anything you want to share, maybe a photo or just a story. You can also make use of a Flipgrid we set up at the OEGlobal 2022 Conference for a Tribute to Paul
Share your thanks to Paul, in any form you choose!