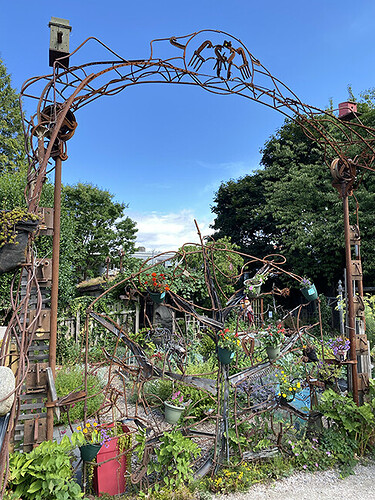 Photo of City Farmer garden near my home in Vancouver. Since 1978, City Farmer has been teaching people how to grow food in the city, compost their waste and take care of their home landscape in an environmentally responsible way.
I'm looking forward to being a panel speaker at SPARC Europe's Open Education Cafe on October 10, 2023 at 7am Pacific Time . This, the fifth in a series of open education cafe's SPARC Europe has arranged around the UNESCO Recommendation on Open Educational Resources (OER), is focusing on the Recommendation's fourth action area "nurturing the creation of sustainability models for OER".
There is a huge need for easy to understand and replicable OER sustainability models and I am super interested in this topic so I am thankful to be part of this panel. Special thanks to Paola Corti for organizing this Cafe and inviting me to speak.
As preparation I have written a Sustainability Models post.
In that post I:
critique existing sustainability models
advocate that "open" be central to sustainability models
illustrate how open can be integral to the model through three example models; 1. National OER Framework, 2. Open Operating System, and 3. Global Commons
I look forward to sharing these ideas in SPARC Europe's upcoming Open Education Cafe on this issue. I expect many of you have thoughts and ideas on this topic too so welcome discussion and suggestions here.
Thanks to OEGlobal, and in particular @cogdog for providing this forum for discussion.