Our remix postcards were very popular at last year's conference, so we are setting them up again for OE Global 2021.
Created for us by the creative genius @VisualThinkery and Visual Thinkery Remix Machine, we are launching this year's first card. Yes, there will be more…
Are you going to OE Global 2021? Share a "global" image and customize your message.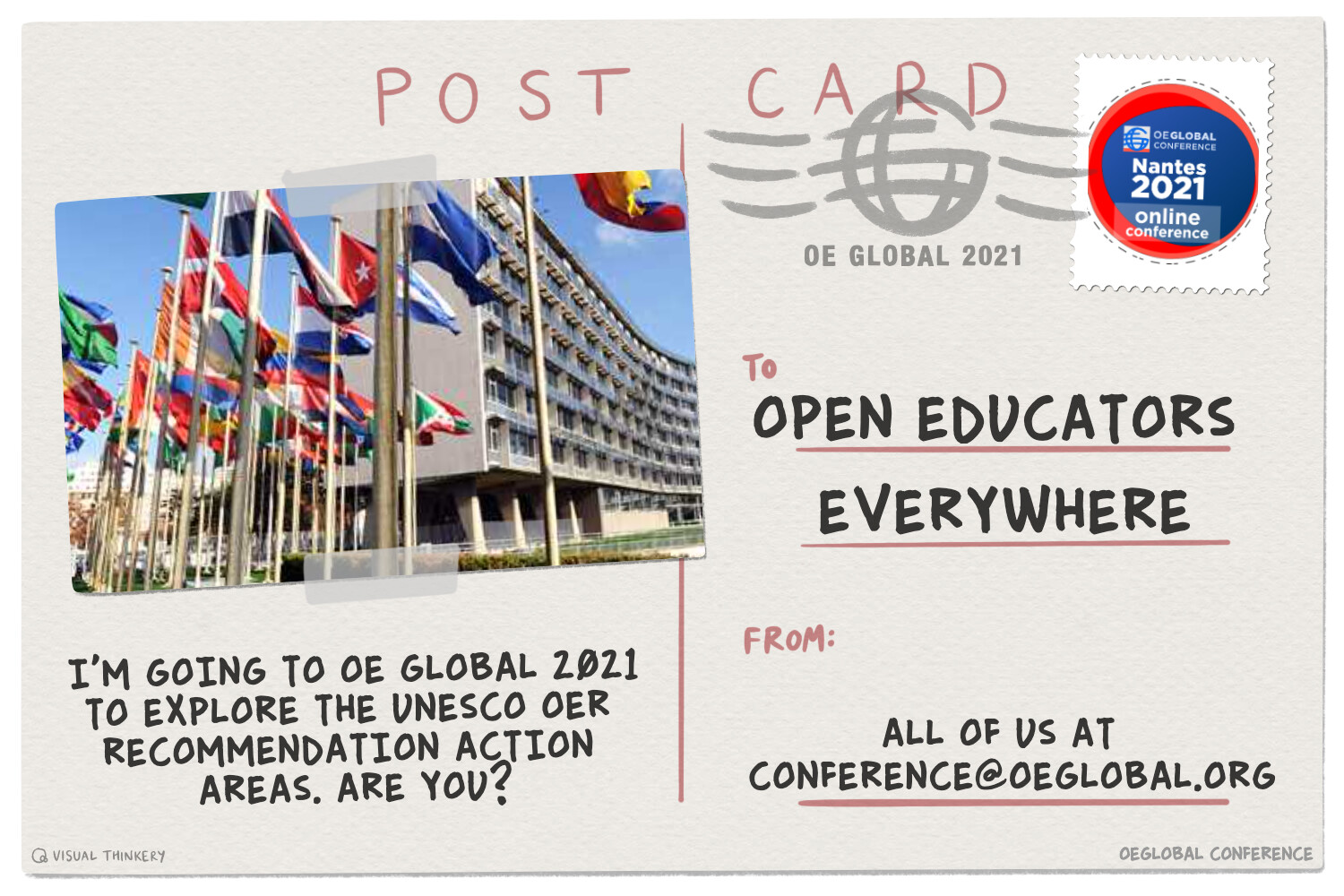 When you visit our conference remixer gallery, you can change the graphics on the featured card to upload your own photo and the stamp, as well as editing the text for the message, sender, and recipients.
Then click Publish as New Remix to generate a card that you can share (and itself can be remixed by someone else). Now your postcard can be downloaded, shared by link, and posted to social media.
Use this first card to express what you hope to see, learn, or experience at OE Global 2021.
After you create your own postcard, reply below and share your postcard.
A big thanks to @VisualThinkery for giving us access to a new version of the remixer where all cards from this conference are collected into a Gallery, and where we can create new starter prompts during the conference.
---
Note: This is one of many social activities taking place during the conference. For fun we are placing them in different spaces of the conference. Find them all via the be-social tag.
---
Elles sont de retour! Les cartes postales remixables
Nos cartes postales remixées ont été très populaires à la conférence de l'année dernière, alors nous les réinstallons pour OE Global 2021.
Créée pour nous par le génie créatif @VisualThinkery et Visual Thinkery Remix Machine , nous lançons la première carte de cette année. Oui, il y en aura d'autres…
Allez-vous à OE Global 2021? Partagez une image « globale » et personnalisez votre message.
Lorsque vous visitez notre galerie de remixeurs de conférence, vous pouvez modifier les graphiques sur la carte en vedette pour téléverser votre propre photo et le tampon, ainsi que la modification du texte du message, de l'expéditeur et des destinataires.
Cliquez ensuite sur Publish as New Remix pour générer une carte que vous pouvez partager (et elle-même peut être remixée par quelqu'un d'autre). Votre carte postale peut désormais être téléchargée, partagée par lien et publiée sur les réseaux sociaux.