Here is important information and tips for conference attendees. Please read this first before you continue to other areas of the site.
---
1. Access to OEG Connect
a. Create an OEG Connect account
We strongly encourage all attendees to create their accounts before the start of the conference.
Step 1 : Use the link that was sent to you via email to create an account
Key tip: how to create an account
Everyone who has registered should have been emailed a special link that should be used to create an account on OEG Connect or to have an existing account connected to the conference. This link creates your accounts and adds you to the conference attendee directory that enables access to conference sessions.
If you cannot find this email message, you can request a new one to be sent to the email address associated with your conference registration.
Step 2: Personalize your OEG Connect profile
Once you have created your account, follow these first steps for new users to improve your profile.
b. Get settled into OEG Connect
Connect is so much more than just a conference space. It is a forum specifically designed for Open Education practitioners and creators to discuss and share. It exists beyond the conference and we hope you will keep using it to connect to your global colleagues.
First, read the Welcome message!
You might also want to watch the welcome videos from the hosts and program committee.
Second, learn more about OEG Connect and how to:
2. Explore the conference space
If you are reading this page, you have found your way to the OEGlobal 21 Online Conference space. Welcome!
The image shows important navigation elements you might need to know.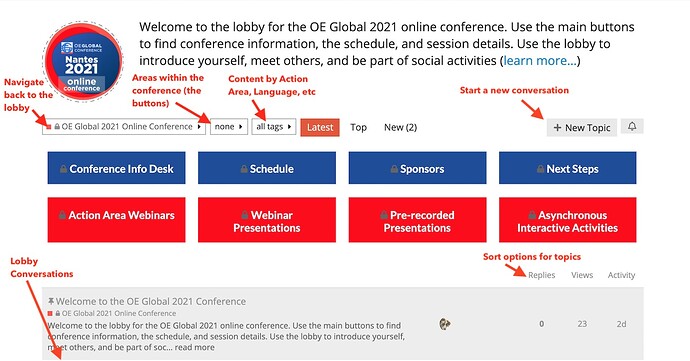 There is a more detailed guide to how the conference and the program is structured on this page: navigating the main conference space. And we have a guided tour of the conference venue:
If you are on Telegram, join the OEG Connect chat group.
b. Personalise your
#OEGlobal21

experience!

Are you proud that you are shaping the future of Open Education? You should be! Share your attendance at OEGlobal21 with the world. Check out these fun, visual ways to proudly display your attendance at OEGlobal21.

You can use the #OEGlobal branded elements on this page to proudly display that you are part of the community, making your experience more fun:
Change your social media profile pic to reflect

#OEGlobal

, use the Web buttons.
Make your Zoom experience more fun, use the

#OEGlobal21

Zoom backgrounds
Want your presentation slides to seamlessly reflect the conference, use this template: OEGlobal21 Slides (Google Docs)
Create your own event poster! Share it with the world and tell everyone how you are contributing to the future of Open Education:
c. If you ever need any help
Need a nudge in the right direction …
Are you looking for something specific, lost, are fighting with technology or overwhelmed …
The simplest way to ask a question is to reply to this topic, or create a new topic with your question. Our help desk team is monitoring this area 24/7.
If you need assistance at any time, you can get help in these ways:
A safe space …
This conference is a safe space for Open Educators to share and collaborate with colleagues from around the world. However, it is a public space.
We understand there could be some cultural differences and ask people to abide by best practices and behaviours on the platform. Please be respectful and abide by our Community Participation Guidelines. In short:
Be welcoming
Be considerate
Be respectful
Be open to ideas
If at any time you feel uncomfortable or threatened, feel like you are being harassed, notice that someone else is being harassed, or have any other concerns, please reach out to us at report@oeglobal.org immediately.
If you do not feel comfortable being identified through the direct reporting process, you can report anonymously by using this form.
3. What to expect during the conference
The structure of the conference, and how the conference space has been organised can be explored in detail here: navigating the main conference space.
Here are the shortcuts …
a. Conference Area
Blue buttons (first row) : Key information and help
Red Buttons (second row) : Conference Sessions
b. Start at the
#OEGlobal21

schedule

As you can see, there are many activities organized into the areas listed above. But what is happening when?

We have a program schedule organized into daily scheduled sessions and ones that are ongoing.
Key tip: The scheduled conference sessions will display the times and dates according to your local timezone. All webinars and live sessions will take place in Zoom. If you are still not up to speed on Zoom, we have a few helpful resources for you.
Each session has its own OEG Connect page, that you will find either under the schedule or in the format Blue Button sections detailed above. By having its own page, each session allows conference attendees to post questions, and engage in discussions. Say hi! Let them know what you thought of their talk. Share links you think they might find interesting or you feel might add to their work.
c. Finding Content By Topic or Language
Another means to explore the conference is via tags that identify anything related to the OER Recommendation Action Areas.
By topic
Find all conference activities and content that is related to:
By language
And we also have organize all sessions into the languages (English, Spanish, French, Arabic, and Chinese) they will be conducted in:
We encourage you to communicate here in your preferred language.
d. Social and interactive activities
Join the conversation!
At its core, OEG Connect is a forum. It is designed for the community to talk, share, interact and collaborate. But it has its limits - we have opened a space on Telegram if you just want to chat or ask questions: join the OEG Connect chat group.
Be social!!
We are a community - let's celebrate our differences and shared experiences. Here are a few ways to do so:
We have many more fun activities planned, and will be added as the conference draws near … You can keep an eye out on the be-social page for more!
4. Get your technology ready
Make sure you have the following available and ready for the conference.
A laptop or desktop.
A strong internet connection. Do a tech run-through by checking your internet speed. For video streaming, it is recommended to have at least 3 megabits per second (Mbps) upload speed. Use a site like librespeed.org to check how fast yours is.

If your wifi fluctuates, LAN wire connection has proven to be stronger.
If your speed is lower than the advised number, see if you can arrange to present from somewhere else with better speed during your presentation.

If possible, use headphones and an external microphone. We recommend wearing earbuds or headphones to prevent audio echoes.
Downloading Zoom
Webinars, presentations and interactive sessions will all take place in the conference Zoom rooms. Links to join are available on each session or presentation page.
---
Other links to visit: