After seeing more AI promptist imagery by colleagues in Instagram and elsewhere, my realization is that judging capability as I have done based on the DALL-E mini powered craiyon is limited- more stunning images are posted using DALL•E 2 and Midjourney.
It's fast moving, and I'm not sure I need to be trying to catch up (I applied for DALL•E 2 in April, still wait-listed).
Midjourney is interesting in that you interact via the software in the social media discord space (How to Geek as a good intro). Also for noting here, The Register's interview with founder David Holz indicates the latest version does build upon feedback from this community, which is not built into the other apps were we individually toss prompts into a box.
The social aspect of Midjourney recently began enhancing image quality. Holz said company engineers recently introduced version three of its software, which for the first time incorporated a feedback loop based on user activity and response.

"If you look at the v3 stuff, there's this huge improvement," he said. "It's mind-bogglingly better and we didn't actually put any more art into it. We just took the data about what images the users liked, and how they were using it. And that actually made it better."
Also of interest, curiosity-- Prompt Press that seems the generate stories that look like news using AI for imagery and text based on current headlines (?).
Speaking of fast moving, or just moving, gaze over the generated images of animals done in various painting styles to what might happen as video is generated by AI via something called CogVideo (no relation!). I gave it a weak try through an interface provided at Hugging Face that "only supports the first stage of the CogVideo pipeline due to hardware limitations".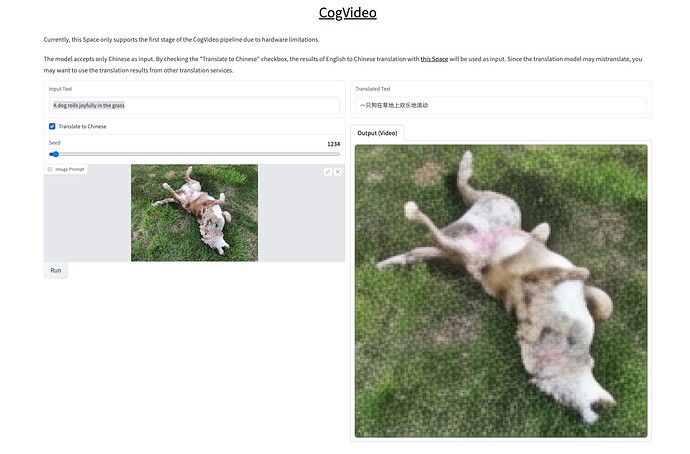 I attempted using a seed image of my dog Felix rolling around on the grass and the prompt "A dog rolls joyfully in the grass" which apparently needs to be translated into Chinese
一只狗在草地上欢乐地滚动
?? I am not sure what to make of the results (crappy video in the tweet).
Designboom had examples of transforming classic art into different styles and even doing things like a makeover of the Mona Lisa to have her sport a mohawk hair style.
This hopefully makes one start to wonder/worry about the copyright/reuse implications here. I lost track of a really good article that dug into this, but it bends a lot of the questions of originality and remix, plus even more about the implications of the rights for the images that AI gets trained on.
And it's going to stretch some legal precedents by pushing what non-human authorship (the usually grounds for rejecting copyright claims).
The question is what will we do, hopefully for good (?) with this capability? I am a bit weary of the shared "look what I made" (by typing into a box!). Back to the interview with Midjourney's David Holz – it's not art (is it creative?)
"The majority of people are just having fun," said Holz. "I think that's the biggest thing because it's not actually about art, it's about imagination."
and
Holz said a lot of graphic artists use Midjourney as part of their concept development workflow. They generate a few variations on an idea and present it to clients to see which direction they should pursue.

"The professionals are using it to supercharge their creative or communication process," Holz explained. "And then a lot of people were just playing with it."
plus
But he's more open to Midjourney as a source of commercial illustration, noting that The Economist ran a Midjourney graphic on its cover in June.
I am only here tracking some notes and trying to make my own sense of what this AI frenzy (or is it just a flash in the pan?) is going.