For announcement November 15, 2021 winners in the five categories of the Individual Awards.
Individual awards are special merit awards presented to individuals who have made extraordinary contributions to advance openness in education. These awards recognize achievements in five main categories: Leadership, Educator, Support Specialist, Emerging Leader, and Student.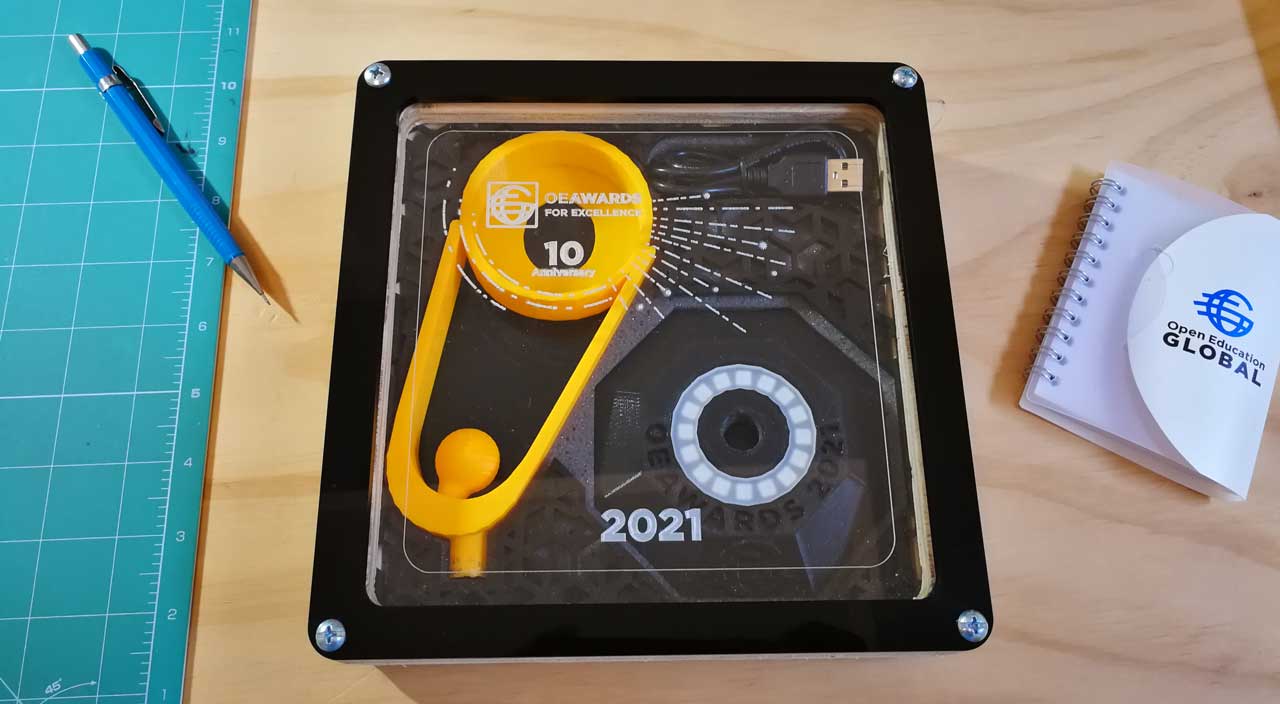 The winners are…
Leadership Award: Melissa Highton
University of Edinburgh (Edinburgh, United Kingdom)
Award presented to an individual who has demonstrated significant leadership and longstanding involvement with Open Education. A person who has made significant and clear contributions to the furtherance of the Open Education movement, whose contributions to Open Education have spanned regions and/or had a global impact.
A leader in the area of strategic support for OER at both institutional and national levels, demonstrating her long-standing commitment to open education within her current role as Director of Learning, Teaching and Web Services and Assistant Principal Online Learning at the University of Edinburgh, as well as in previous roles at the Universities of Leeds and Oxford.
Melissa's leadership and example in open education is far reaching. To give a handful of diverse examples from the past 18 months alone: she has influenced the sharing of OERs for primary and secondary school children on TES Connect, proving particularly useful for home-schooling parents during the pandemic, and have been downloaded more that 54,414 times; enabled gamers to import any of the 40,000 images from the University's Centre for Research Collections into the Nintendo game 'Animal Crossing'; and enabled the repurpose of content from the Masters in Critical Care so that more than 40,000 healthcare professionals working on the pandemic frontline could access resources for free.
Melissa's commitment to and support for open education is an inspiration.
On joining the University in 2014, she embraced the call from the Edinburgh University Student Association (EUSA) for greater institutional engagement with open education. Her priority was to create a service to support the use of Open Educational Resources (OERs), helping colleagues to develop the skills required to share and reuse openly licensed teaching materials. She helped EUSA by funding a student to map the wealth of OERs already available disparately across the University and bring them together under a single showcase website (https://open.ed.ac.uk/). Melissa's vision to move towards sharing resources on the platforms where the wider community are most likely to find them, rather than create yet another institutional repository, has undoubtedly increased the reach of the Universities OERs, and the profiles of many academic colleagues.
Melissa's vision for openness at Edinburgh is encapsulated under the three themes enshrined in the strategic vision she developed for OER and open knowledge at Edinburgh (the only university to have an OER service in Scotland). It builds on the University's excellent education and research collections, traditions of the Scottish Enlightenment and the University's civic mission:
For the common good – encompassing every day teaching and learning materials.
Edinburgh at its best – high quality resources produced by a range of projects and initiatives.
Edinburgh's Treasures – content from our world class cultural heritage collections.
Melissa successfully oversaw the adoption of an OER policy at Edinburgh in 2016 which enabled the creation of two additional open policies: 1) Lecture Recording Policy, and 2) Virtual Classroom Policy.
Melissa's teams established a media asset management system, Media Hopper Create , one of the largest publishers of 'born digital' academic video and audio content OER in the world. Users are empowered to create, publish, share and discover media content. OER routes built into standard workflows encourage users to publish their content with Creative Commons licenses.
Under Melissa, the University was the first university in the UK to appoint a university-wide Wikimedian in Residence in 2016 as part of its institutional strategy to develop information and digital literacy skills for staff and students, and contribute to the creation and dissemination of open knowledge. She has pioneered the employment of student interns working in the open knowledge domain and in 2021 the University of Edinburgh was pleased to offer 5 roles to students covering open content curation and Wikimedia.
Educator Award: Orna Farrell
Dublin City University (Dublin, Ireland)
Award honoring an innovative teacher/professor who has published and/or used a significant body of OER over a sustained period (at least one year) in his/her teaching practice. An individual whose open course materials and professional practices have been recognized as having an impact and influencing peers to share more openly.
An inspiring exemplar for her open teaching practices on local, national and international stages. Dr. Farrell's willingness to share and inspire other teachers is exemplified by the #OpenTeach project which started in 2019 and was built from the ground up with an open first philosophy. Each building block of the project was an OER or an OEP. Via an open online course Dr Farrell led a team that went on to teach hundreds of participants about open online teaching and learning.
In 2021 the open textbook: #Openteach: professional development for open online educators was published, taking the form of an accessible blend of key findings from the wider ODL research literature, design based approaches to teaching, and practical tips and advice from students and teachers who had participated in the #OpenTeach course.
During 2020 and 2021, in addition to leading several impactful open education projects and initiatives, Dr. Farrell answered the call to take on a leadership role and head up a new team of digital learning designers that provided support to thousands of teachers and students across her university. All the while Dr Farrell led from the front, teaching not by transmission but by example, via an approach that encourages openness to learning and to possibility. To give the last word to one of her students on using eportfolios in Open Distance Learning: "I am not simply learning and regurgitating information, I am also learning about myself" (Farrell & Seery 2019).
Dr Farrell has taught online from 2017 - 2020 as a programme chair in the Open Education Unit of the National Institute for Digital Learning in Dublin City University. In 2017 she received a President's Excellence Award in recognition of outstanding contributions to the University's teaching and Learning activities. Her pedagogical approach is to valorise teaching that opens doors for students and teachers alike. She has conducted and published research on her teaching approaches such as orientation of new students, providing educational pathways to refugees and migrants (Farrell et al 2020a) and reflective portfolios as an assessment and teaching tools (Farrell et al 2021a). All of her published research is accessible either through open access journals or via green open access through institutional repositories. In addition she plays an active role in online spaces where she is available for wider communities to engage with her teaching and research such as via social media and other forms of engaged open scholarship which are characterised by a playful willingness to try new things and experiment with communication modes and media. Her approaches have always involved teaching as an open social construct and one that breaks traditional distinctions. Her co-teaching approaches challenge the conception of teacher as lone sage. Her mentoring of students as co-authors on academic papers helps de-centre notions of researcher power and privilege (Farrell, Brunton & Trevaskis 2020a).
The OpenTeach and Go Open projects she led helped build not just new skills and competences for teachers in open online teaching but also consolidate communities of learners around these topics building digital resilience. The open access scholarly outputs and learning resources of the OpenTeach project are being widely used and cited with one report now cited 42 times with over 6,000 reads (Farrell et al, 2019, 2020b; 2020c; 2021, Ní Shé et al 2019, 2020, 2021). As the project was built using open principles its impact has been far reaching . The course has been taught by other teachers, remixed as a book and is also available in digestible CC licensed OERs. Everyone can take something from it. As one teacher put it: "It enabled me to reach out from my COVID isolation and connect with other educators across a variety of disciplines, share practices and learn some extremely useful tips". The OpenTeach course brought teachers new to open education together with experienced ones forging a community to renew, refresh and re-invent practice. Likewise the Go Open project brought librarians, learning designers, lecturers and students together in a broad coalition building an accessible toolkit allowing newcomers to dip their toes into open waters.
Dr Farrell answered the call to lead a team of learning designers in her university who provided support to lecturers to put teaching online during the pandemic and develop OERs for the wider community. She gave up her beloved teaching for a time to undertake this task on behalf of other teachers.
Congratulations, @OrnaF
Emerging Leader Award: Gino Fransman
Nelson Mandela University (Gqeberha, South Africa)
Award granted to an enthusiastic individual displaying promising leadership qualities. Someone who's advocacy and use of open education is inspiring, making them an effective spokesperson. Someone who has demonstrated a strong commitment towards its ideals or has achieved significant accomplishments.
Gino's role in the OpenEdInfluencers project stems from well before being employed at MandelaUni, from UNISA, and University of the Western Cape since 2005. Being an advocate for Open, and indeed for Opening Up access to free, high quality, fully accessible education resources motivated a research endeavor as a GO-GN member, as well as a student and staff developmental and empowerment initiative.
After 3 years at the institution, it became evident there was lacking progress in the awareness raising sector. Adoption, and the prime objective of generating new OER became a point where endeavours often fell short. Too many people didn't know what Open was, nor the potential of OER and Open Textbooks, especially. Gino set up an Open advocacy strategy where students would be able to take the lead in bringing this evolution in the provision of teaching and learning resources to the fore and gain work experience, and payment. Focusing attention to the efforts, successes, and greater potential the initiative offers, and to celebrate actions for Opening Up. Initially, funding was limited, so Gino embedded Open into the praxis of the writing respondents. This proved useful, but student transience made strengthening Open into institutional practice a challenge. Support from DVC Prof Foxcroft, and Directors Dr Toni, Dr Kizito and more recently Mr Dave Jenkings helped realise the mission.
Since 2019, the OpenEdInfluencers project is part of the Siyaphumelela Programme funding cycle, into 2022, via the Kresge Foundation.
The recent 2021 conference featured an institutional video which Gino produced and directed, profiling the initiatives undertaken thus far, published under CC licence:
This grant helped establish payment for advocacy and student work experience, and the creation of the OEI project has catapulted the project into local, national and global spaces where their work is widely recognised, and being used.
This has supported recognition and placement onto Programme Committee membership on the Open Education Global conference annually, as well as a placement to the UNESCO Open Education for a Better World Advisory Board in 2021. Gino is now a mentor to a socially relevant project, titled Peacebuilding within high-risk communities in South Africa.
Congratulations, @GinoFransman
Support Specialist Award: Werner Westermann
Library of Congress of Chile (Santiago, Chile)
Award presented to an individual actively engaged in the use and promotion of OER and Open Practices. Someone, other than a professor/teacher, that supports the ideals of the Open Education movement through their own practices. These might include librarians, researchers, instructional designers, policymakers, administrators or more.
Often OER advocates are focused on the potential for the materials, and the right to and requirement of openness, but sometimes the disconnect between practical uses of the materials can be limiting.
Werner has a deep and authentic commitment to equitable learning through ICT. He has a holistic yet practical view as to what is required to use OERs, and builds on lessons from other initiatives that have been limited by technological or infrastructural constraints of delivery of OER in a way that makes sense for the learning needs.
Werner worked with Learning Equality to align OERs to national curriculum in Chile and Honduras, with El Salvador underway, and he has presented on this work alongside their open learning platform, Kolibri, as a tool that could be piloted and scaled. He has shared this passion with our community while discussing the reusability paradox in a recent blog. Werner is leveraging his expertise in education technology and open content to ultimately improve the lives of learners globally.
Werner has over 20 years of experience with ICT-enabled education and training with ministries, higher education and civic education institutions, as well as an OER researcher and advocate. Notably of late, he kicked off an OE Global dialogue which encapsulates how he is thinking about OER:
How can OER, its use and the openness in our educational practices emerge as alternative and new ways of learning and teaching?
Congratulations, @wernerio
Student Award: Hannah Rothmann
University of Edinburgh (Edinburgh, United Kingdom)
This award honors the outstanding endeavors of a student who has advocated for or benefitted academically from the use of open educational resources (OER). The award is presented to the student whose achievements may inspire others to pursue degree programs that utilize open resources and/or someone who played a prominent role in advocating successfully for the promotion and advancement of OER and open education.
In a time of home schooling, remote working and hybrid teaching – and when many have felt disconnected and powerless – University of Edinburgh student Hannah Rothmann went to work in lockdown to empower staff, students and members of the public that they had agency to improve the information freely available online.
The resources Hannah created have been shared in playlists on open licenses to YouTube, the University's Media Hopper Channel and curated on a new 41 webpage website. All with the aim to break down the 'how' and 'why' of Wikipedia so that any course leader can embed learning about Wikipedia into course programmes and Virtual Learning Environments; to make sharing knowledge openly super easy to learn and engage with everyone. And thereby increase the diversity of editors contributing to Wikipedia and the diversity of content shared online.
Her resources and advocacy have already yielded impact; being put to good use by UNICEF, the University of Toronto and course programmes at the University of Edinburgh inc. projects on: Global Health Challenges; Translation Studies; Islamic Art; and Scotland, Slavery and Black History.
Sample of her work include:
Hannah advocated collating these new resources (and the best existing resources) into ONE place, to make contributing to Wikipedia much easier to navigate. In the age of Covid-19 when open knowledge has never been more vital, she designed and created a new 41 page website which provides clear guidance on best practice when learning 21st digital research skills along with scaffolded open-licensed resources to show how anyone can get started with the sharing of open knowledge for the benefit of all – whether it is communicating fact-checked knowledge on inspiring women in STEM, Covid-19 research, Black History, Climate Change or any other topic.
Her videos have already been put to good use by the Wikimedia Foundation and UNICEF in a partnership on the "Voices of Youth" project, where they invited 100~ participants aged 14-22 to create content about "Life after COVID". They shared a video Hannah made (a quick intro of how Wikimedia Commons works) so the participants could upload the content they created on a free licence.
The output that Hannah achieved, working from home at her parents, in the midst of a global lockdown is incredible. She has stated that this work helped her to focus, kept her sane and motivated. The impact that these resources have already had, and will continue to have, for the global sharing of open knowledge could be far greater, as awareness grows.
Hannah has continued to make herself available and speaks regularly at events to help promote awareness of these resources and speaks passionately and persuasively, about why open knowledge is important; winning new converts to 'open' everywhere she goes.
Congratulations!
Please reply and extend your congratulations to the winners or ask them any questions about their award winning efforts.