We are most excited in this effort by colleagues at conference host NorQuest College to have a large number of students helping out at as part of their Community Service Learning component.
There will be about 60 students per day visible at the conference, all will be wearing red vests.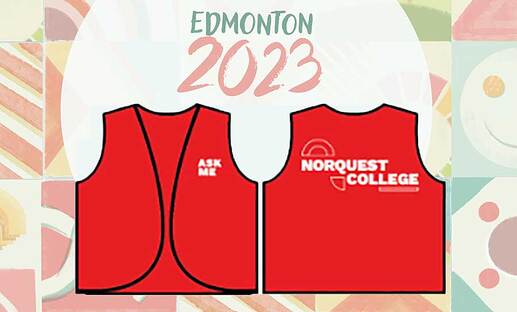 They are students in Reva George's two sections each of Social and Digital Communications and Venture Development courses. There will be 2 in each venue room and will be introducing sessions, helping presenters with timing, and also reporting the activity in social media in posts and photos.
Other teams will be milling about the open spaces during the breaks, also taking photos and posting to social media. In addition some will be asking to record short "Vox Populi" style questions of attendees.
They have all been oriented to protocol of doing their best to ask first to make sure they are not photographing attendees who do not wish to be photographed (also at registration you can request a red lanyard that indicates this preference). And that they make it clear to ask before recording any one.
Please make them feel welcome, and do what you can to help them share the excitement of the experience. And they may not be fully aware of Open Education, so this is an opportunity yo both teach but also learn from them as the learners we are working to support.
Keep your eye out and smile for the red-vested student (that sounds like a bird species!).
Again, thanks to NorQuest College staff Reva George for making this possible, and as well, thanks Julia Szweda from Community Service Learning , Brent Peters, social media specialist, plus Linda Buhler and Miah Bannerman for helping coordinate all the volunteers and assignments, and finally Sarah Symth @Sarah_Smyth for much logistical support.