Here is important information and tips for our conference presenters.
Create OEG Connect Accounts
All conference presenters will be emailed a special link to create an account on OEG Connect. This creates your accounts and adds you to the conference attendee directory that enables access to conference sessions. For presenters, this link will also add you to the presenter directory.
Find Your Session(s)
Once you have created your OEG Connect accounts, log in, and locate your session:
Visit the main conference entry where you will see presentations grouped into areas (e.g. Keynotes, Live Sessions, Anytime Sessions, Workshops, Posters etc). Try using the search field to locate your session.
OR
You can also explore the full program schedule. This is the best way to explore the conference from a calendar view. Try searching for your session using your browser's search (command-F) function. Use the Save button to add your session to your personal conference calendar.
Note as well the share button at the bottom of your session. Use this to save a link to this post, or share to social media or by email.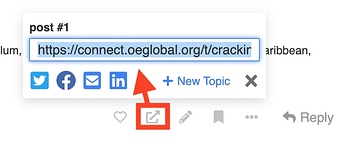 The bookmark tool

can be used to save a link to this (and any other content in OEG Connect) to your own collection of bookmarks.
Reply to Add Content to Your Session
The idea of our conference format is that each session is not only a presentation but a conversation. Think not only about ways to add useful information, resources, but also prompts that might engage your audience, before, during, and after your session.
Your session starts with the description submitted from your proposal along with the details on the time (this is presented in your local time zone). We ask presenters to reply to the session description to add items such as:
A welcome message with additional information about your session
Provide additional references by link, or uploaded images / PDFs
Embed videos by link or provide links to slides or additional resources
Write questions that might lead to valuable follow up discussion
See our content editing guide for tips on how to compose entries in OEG Connect. Note that you can edit/update this material at any time.
For Live (synchronous) Sessions
Consider adding relevant links and presentation materials to your session description. As you prepare your presentation, practice and plan to finish within the scheduled time.
While you can present via slides, you may also consider screen sharing a live web tour of your project or subject. And you can also conduct a more conversational approach. Think about ways your audience might be able to engage via chat during your session or by discussion in OEG Connect afterward.
Be ready with your slides and show up to your session in advance of the scheduled time. The moderator/chair will be looking for you and will check in to make sure your materials are ready. They will briefly introduce you and also provide warnings via chat as the end of your session approaches. Time limits will be enforced.
For Asynchronous (Anytime or Poster) Sessions
You will want to use the reply to your session description to include all materials for attendees to view. This might include pre-recorded video posted to YouTube, shared slides, web links, images, uploaded PDFs. It should include everything a conference attendees needs to experience what you are sharing.
You may want to consider including as well questions or prompts to encourage replies from attendees. This is the way conversations happen around these sessions.
For Workshops
Consider including in the reply to your session all materials participants may need to use or reference during the workshop. A pre-event video would help introduce them to the session. Be ready during your workshop to touch base with participants and give them time and a means to get your attention if they need help.
If You Need Help
If you have any questions or problems, reply here or a send a private message to our @Help support team