Last year we offered a series of mostly asynchronous offerings here as the "Open Pedagogy Summer Adventure" and all the resources remain available.
What sorts of things open education related are you exploring and want to explore over the next few months (June to August and no it is not summer for everyone) - what would you like to take on as an adventure?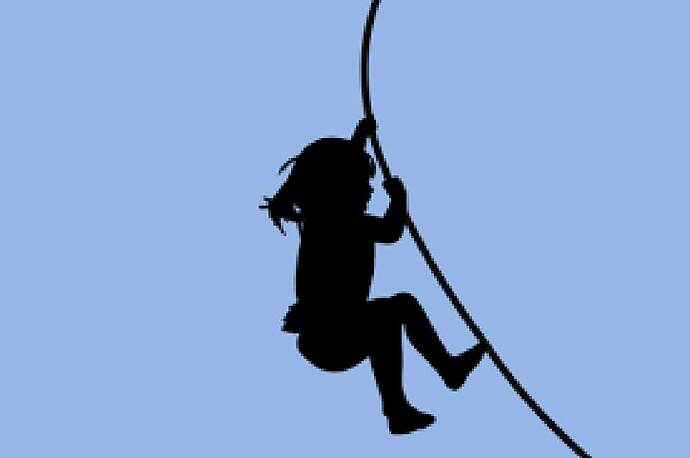 Child climbing silhouette CC0 licensed image from Public Domain Vectors
I'm game to set up:
Follow-up on the H5P Activities we set up last year. Does anyone want to join me in getting started? Sharing what you are working on with H5P? Explore some of the new content types? Check put the H5P Self Service Food Truck (??)

Hands on with AI Okay we keep hearing about artificial intelligence but it often sounds complex or mysterious (see the discussions started by @wernerio during OEGlobal 22) I am interested in learning more by exploring some hands on activities to understand better what these things do and maybe how they work. Does anyone want to follow along? Join here

Simple OER Publishing Tools I'm adding this one into the mix- two examples of ways to publish open textbooks or course materials that do not require sophisticated publishing software, makes use of the affordances of the GitHub (which may look daunting) - Lantern from Northeastern University looks very powerful and I have been intrigued/following Docsify Course Starter template that Paul Hibbitts uses for publishing his course materials both on the open web and inside an LMS.

You Tell Us! Are you looking to explore more in open pedagogy? Or are you seeking to advance your skills with tools? Media?
And also a recommendation - if you are looking for an interesting format of options, see the Equity Unbound MYFest22 (Mid-Year Festival) - a buffet style choose your own PD, pay what you an approach. Learn more at http://myfest.equityunbound.org/
What is in your adventure plans?