Excuse my semi-rational exuberance, but I remain excited about the potential of H5P for offering interactivity and practice to reinforce learning in online content.
More than that, it exemplifies the reusability elements of OER by being platform independent, eminently reusable, and delivered to your learning plate with baked in license metadata.
In a previous project I took the "cooking" and "kitchen" metaphor maybe a bit far, so here is a next step. The H5P Kitchen is open but not active, and this year I am thinking of offering in this space something more like a self-server food truck.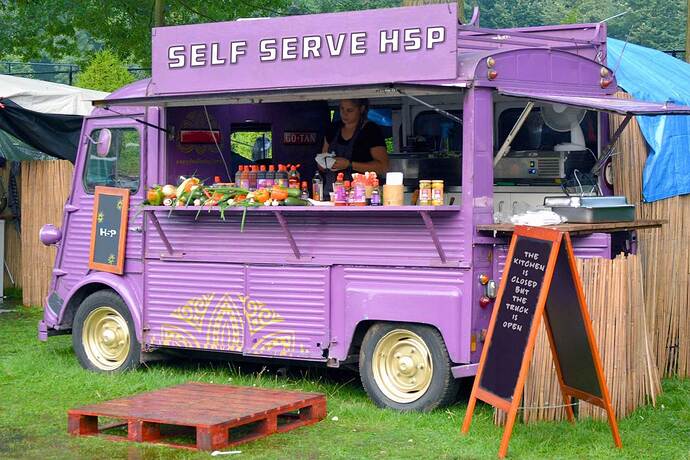 Remixed by Alan Levine from Pixabay photo by joenomias
There are some things I hope to explore, and if you are wanting to get started in H5P, or are working on H5P projects, please drop in and talk to the food truck.
My Interests
Exploring a few of the new content types
Seeking out new exemplar examples
Kicking the tires (maybe) on the long anticipated H5P OER Hub
and whatever else that piques my H5P curiosity (tell me something interesting to look at?)
Getting Started in H5P
I am not "teaching" or doing "how to workshops" but I invite you to explore previously created resources and tossing in any questions. I hope that more H5P adventures will keep an eye on this space and chime in with their own expertise.
While I may sound like I wear an H5P Chef's hat, I am far from expert! Some starting points if this is all new to you (and see all H5P tagged content in OEG Connect):
Of course there are plenty more examples of H5P starter dough out there…
So if you want, follow and contribute to this topic. Look for more responses from me as we go and/or inform the Food Truck of your level of interest / curiosity.
Note: This is one example of an Open Pedagogy Adventure topic - you can start your own here, just make a new topic, post, share, do something, update, repeat!