You are in the conference venue now!
This is part of the OEG Connect online community space framed around creating ways for attendees to actively engage in conversations and activities between sessions. We've built this space on the discourse open source community platform with the idea to put conversations at the center of the conference experience.
The conference will be open for the world to see the programs and activities; registration is required to gain access to the live sessions and to participate (post) in discussions here. If you are interesting in the full experience, register now.
As a conference participant you will receive an email with a special link to create your account on OEG Connect. The account creation process includes general suggestions for getting started in OEG Connect, such as customizing your profile (for more detail see the OEG Connect Guide).
Conference Areas
The main conference entry includes the areas you can explore the activities.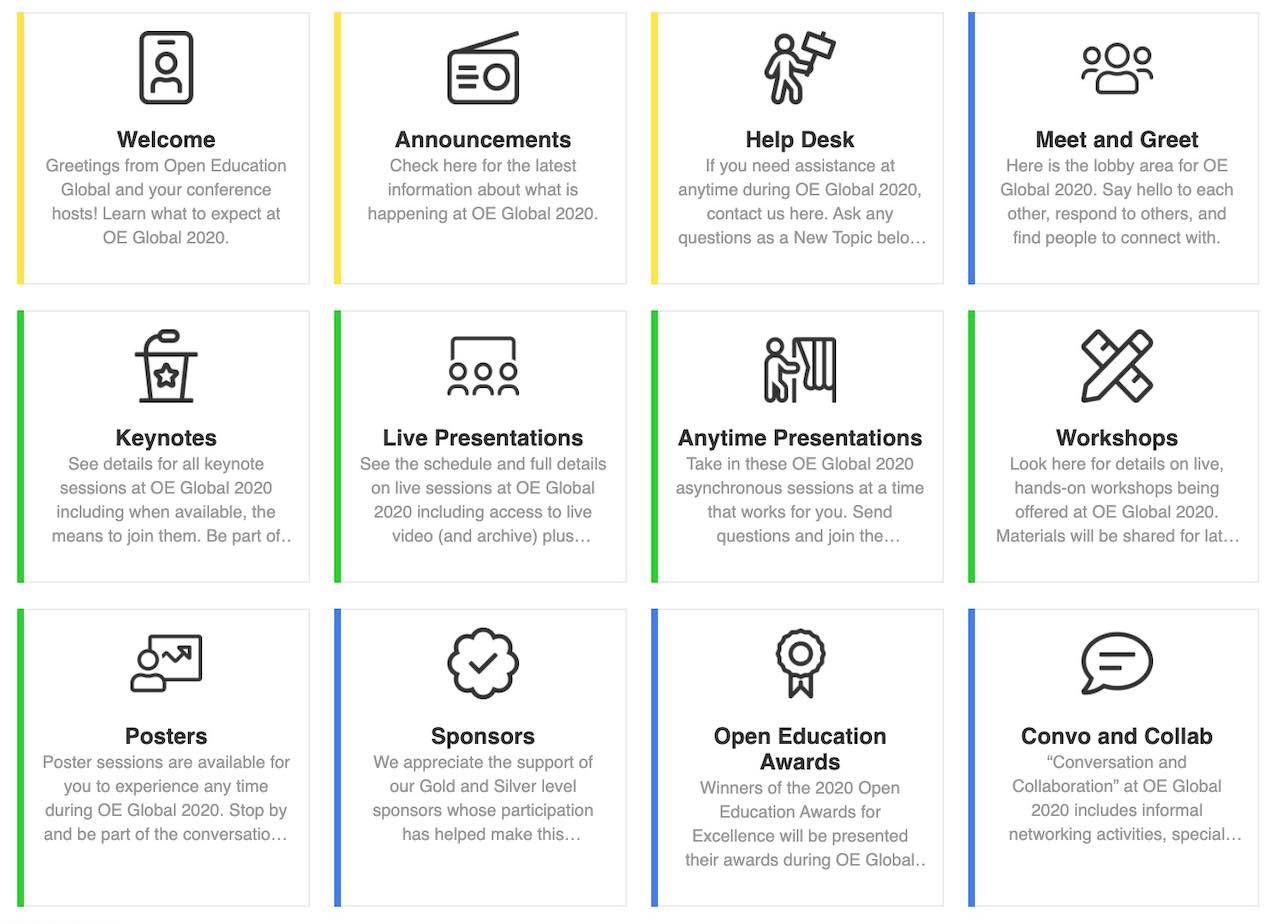 All of content within these areas are intended to be conversational, use the reply button to ask questions, offer feedback, or just to share your ideas. See our under five minute tour: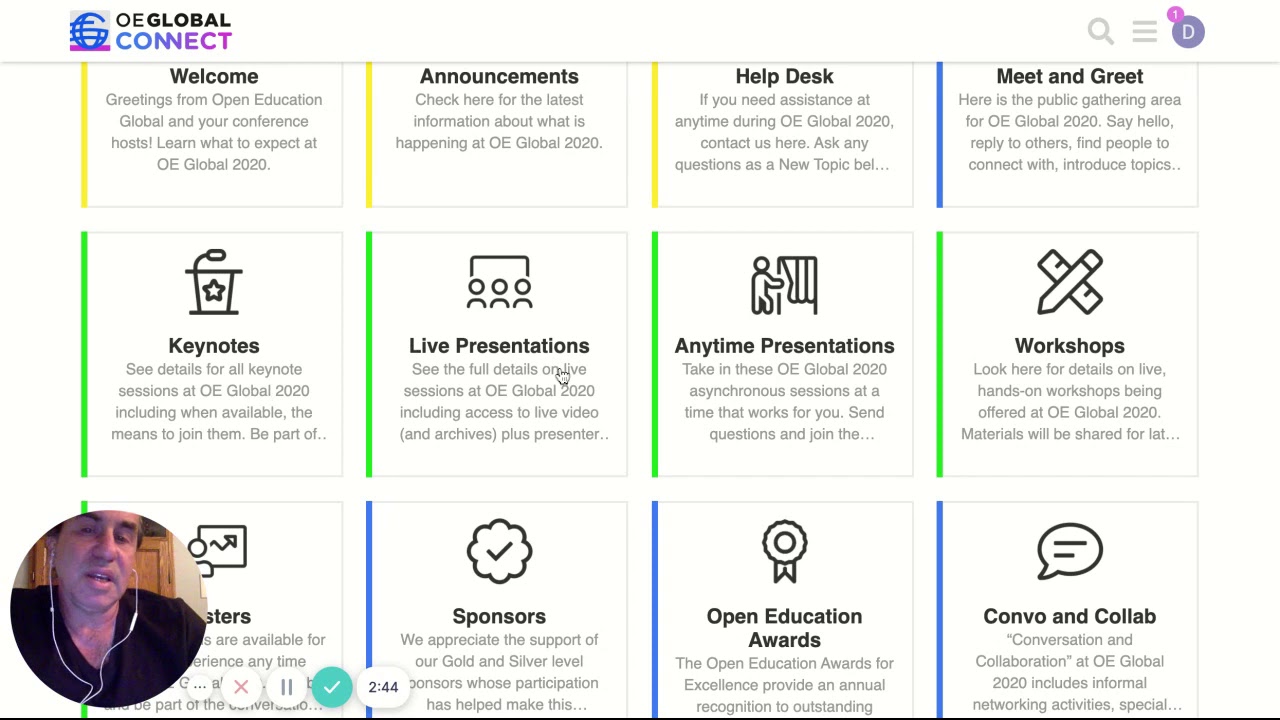 Conference Spaces
Programmed Sessions
See the overview schedule of the program (coming soon) where you can see the conference sessions with times and dates in your local timezone. Registered participants are able to Save sessions to a personalized OE Global 2020 schedule. All keynote, live sessions, and workshops will take place in Zoom.
Each session has its own OEG Connect topic, so conference participants can post questions and comments.
More Conference Spaces
Sponsors Visit our expo area to get information about our sponsors, ask questions, request meetings, and see what special sessions activities sponsors will host during the conference.
Open Education Awards Learn about and meet with the winners of the 2020 Open Education Awards for Excellence
Convo and Collab An open space for Conversation and Collaboration. Look for activities to connect and share, special interest group meet-ups. Post you own discussion, gathering as a new topic, this is your space to design.
That's a lot of different spaces!
We recommend starting in the Meet and Greet area This is a good example of how the conference areas are set up. The top entry (gray color with a pin icon) provides an overview of the area and suggestions for what to do there.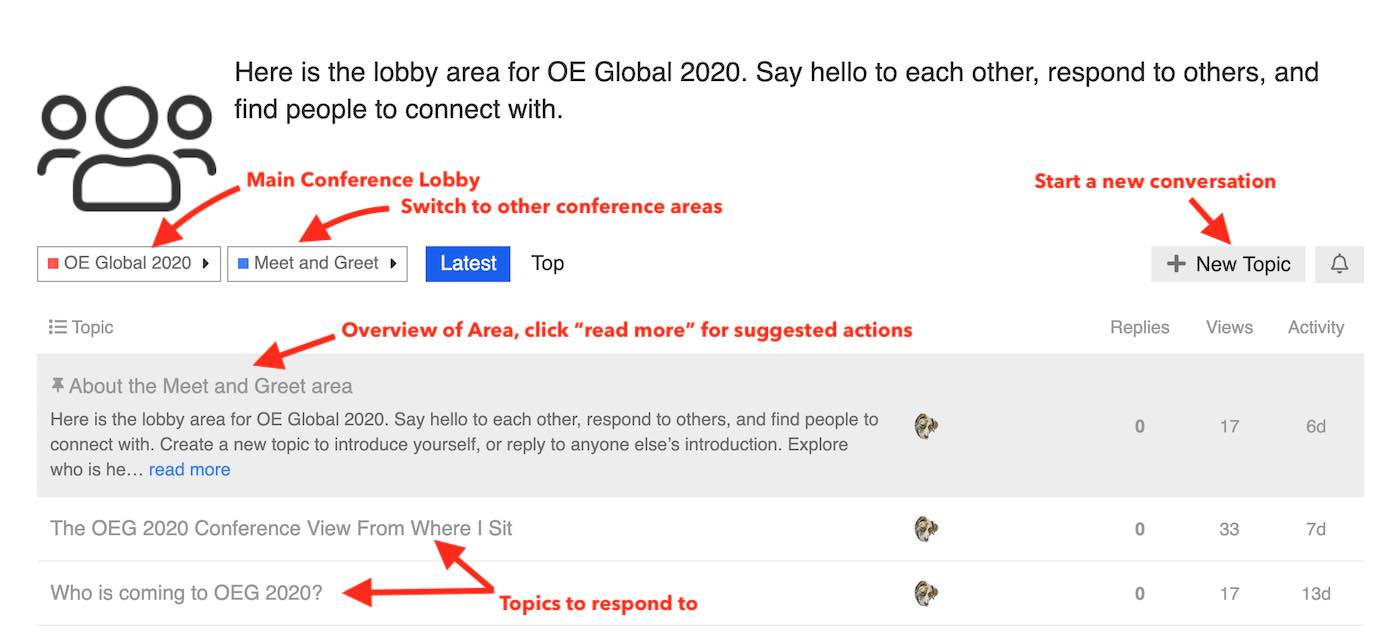 A good starting point would be to reply to Who is Coming to OE Global 2020? with a self introduction. See responses from others and say hello to people you know or may want to know.
If You Need Help
The simplest way to ask a question is to reply to this topic, or create a new topic with your question. Our help desk team is monitoring this area 24/7.
If you prefer to ask your question privately, use the message button available when clicking the @help team