Our first Three Days of Focus is planned for June 30 - July 2, 2021 Our guest Conversation Starters include Werner Westermann (@wernerio) , David Wiley (@opencontent) and Vahid Masrour (@vahidm from Learning Equality, providers of Kolibri Studio) .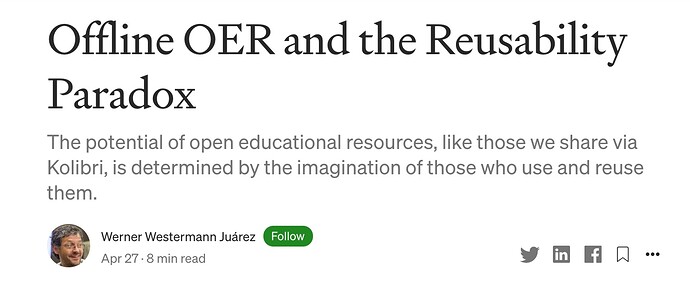 Technically the three days have passed but the conversation here remains open. Thanks for participating!
Join us for three days of focused discussion on the relevance of the Reusability Paradox, curricular alignment of OER, using Kolibri Studio for delivering offline OER, and more. Participate when it works for you.
Background on the Focus Topic
From his work in Chile aligning K-12 curriculum with offline OERs delivered via Learning Equality's Kolibri Studio, Werner Westermann shares a new perspective on David Wiley's Reusability Paradox, published in 2002. Is there more to confronting the paradox than just open licenses?
What to Do in Advance
Read Opening replies from our guest experts that will be posted here before we open the space for responses.
Join OEG Connect: If you do not have an account, create one in advance via the Join button in the top right
Browse OEG Connect: Say hello in our Welcome Area in the Plaza. Explore other topics.
Prepare Draft some questions or comments for posting on Day 1.
How to Participate
Our Three Days of Focus will open with a few statements, positions, and questions from our co-hosts. They will appear in the main Three Days of Focus area.
Reply to any of these with comments, counter arguments, relevant resources that support your statement (including web links, videos, documents). We are looking for constructive discussions that can lead to some summary, recommended course of action, or clarity on a topic. Reply also to messages from others. This is a conversational space…
If you have something new to state or pose as a question, create a New Topic.
OEG Connect is an open space for discussion about Open Education, and is also a place we ask that you act with respect and courtesy for others. Please review the participation guidelines created for our online conference.
For assistance with this platform, please see our Guide to OEG Connect. If you need assistance, send a message to our Help team or email us connect@oeglobal.org