For 2023, we are introducing a new exciting element to Open Education Week-- a live webcast "show" scheduled at least twice a day during #OEWeek.
Each show will feature a review of events happening in the next few hours, highlights from past ones, but most importantly-- conversations with participants and anyone interested in joining us in the studio. It's more the excitement of an unscripted radio show than just another webinar… It's OEWeek Live!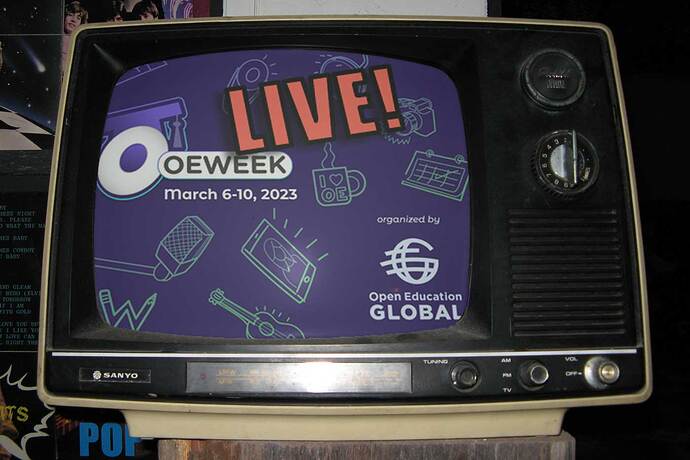 Old TV - Time Tunnel - Cameron Highland flickr photo by liewcf shared under a Creative Commons (BY-SA) license modified with insertion of OEWeek Banner by @Mario licensed CC BY, making this image also Creative Commons (BY-SA) license
Watch The Show, Live!
OEWeek Live! will be streamed to YouTube and you will be able to send questions/comments to the studio via chat or followup here in OEG Connect.
See below for exact dates and times (converted to your local timezone), follow links to a separate OEG Connect page with the live stream embedded plus information on guests and topics.
Monday March 6
Tuesday March 7
Wednesday March 8
Thursday March 9
Friday March 10
Help raise the level of excitement for Open Education Week by joining our live streamed conversations. Be there with us, LIve!
Update! If you missed a show, the recordings are available from each separate

link above or as a full playlst